Liang Yuanzheng, 39, has been a village doctor in Shaanxi province for the past 17 years. Surrounded by mountains and endless farmland, the small village of Guanshan is about 80 kilometers from Ankang city in Northwest China. Liang moved there five years ago.
Today, he will go to check on 63-year-old Zhou Yongzhen and give him an intravenous drip. Sometimes Liang has to walk to patients' homes because of the bumpy unpaved path, and it takes longer than the consultation with the patient.
Liang and his wife both graduated from the same medical school. They have a 14-year-old daughter and a 4-year-old son. When talking about his mentally retarded daughter Liang feels guilty, he is a doctor but cannot heal his own child and he has less time to take care of her.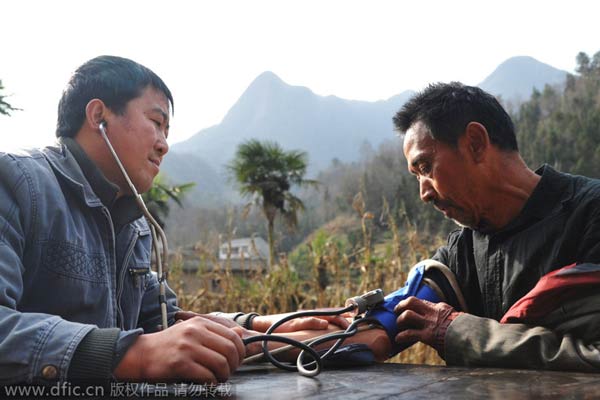 Liang Yuanzheng checks on a villager in Guanshan village, Northwest China's Shaanxi province, Jan 1, 2015. [Photo/IC]