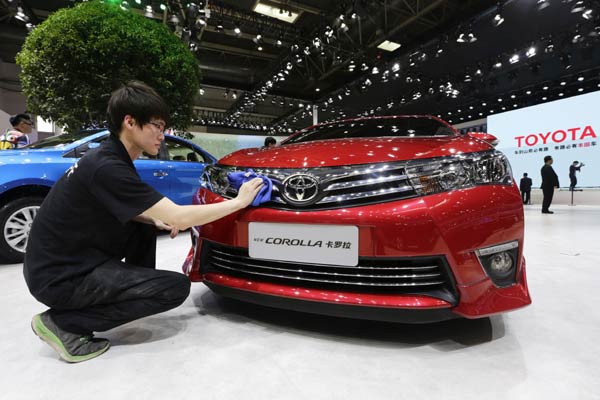 A man cleans a new Toyota COROLLA car at Auto China 2014 in Beijing, April 20, 2014.[Photo/Agencies]
Toyota Motor Corp is likely to miss its 2014 objective of selling more than 1.1 million vehicles in China because of a faster-than-anticipated economic slowdown and a price war in the local auto market.
Toyota and its two Chinese joint ventures will miss the goal and will sell slightly more than 1 million vehicles in 2015, said two company executives. Researcher IHS Automotive puts sales at 1.09 million in 2014 and 1.15 million in 2015.
The shortcoming reveals continued difficulty for Japanese automakers in China even as diplomatic relations recover from a territorial spat that turned Chinese consumers against Japanese goods. Compounding matters is an increase in models from premium German brands priced within reach of mainstream Japanese cars.
"Toyota can resort to a fire sale and meet our sales targets, but our philosophy is to produce and sell as many as a market wants, not much more," said one of the executives. "We try to stay away from price wars as much as we can."
The Japanese automaker has unofficially aimed for 1 million vehicles in China since 2010, coming close with 917,500 vehicles in 2013.
But with economic growth nearing its slowest rate in 24 years, Toyota has revised sales plans gradually since the third quarter, said the executives, who were not authorized to speak to the media on the matter and so declined to be identified.
Projected 2014 sales for the automaker's luxury brand Lexus, for example, are now roughly 75,000 cars from an original target of 85,000, they said. Toyota is scheduled to release full-year figures on Jan 6.
Another reason for the slower-than-planned sales at Toyota-as well as at compatriots Nissan Motor Co Ltd and Honda Motor Co Ltd-is competition from premium German brands such as BMW, said one of the Toyota executives.
Dealers of those brands have tried to meet planned growth rates by heavily discounting cars at the lower end of product line-ups, making prices comparable to non-premium Japanese cars.
For instance, BMW's 3-Series starts at about 283,000 yuan ($45,645) while the most expensive version of Toyota's Camry mid-sized sedan costs 275,000 yuan.
"When the BMW 3-Series is given a 10 percent or more discount, it really squeezes sales of the Camry and similarly priced cars in our line-up," said one of the Toyota executives.
A BMW spokesman declined to comment.
Toyota sold about 907,400 vehicles in China in January-November, up 12.2 percent, aided by several redesigned models including the high-volume Corolla compact, as well as the China launch of the Vios and Yaris subcompacts.
A relative dearth of redesigned models for 2015 will leave growth in the new year more or less on a par with that of the overall market, the two executives said. IHS sees the market growing 7.1 percent to 24.9 million vehicles.