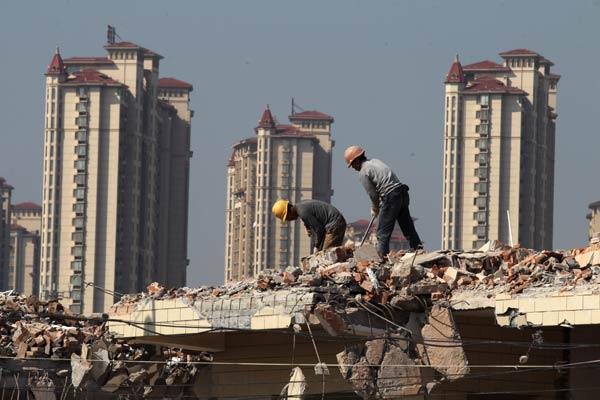 Workers demolish an old building in Nantong, Jiangsu province. [Photo Provided to China Daily]
Property sales concentration rose in 2014, with about half of Chinese developers failing to meet their sales targets set at the start of the year, said housing research agencies.
The concentration rate measured by contracted sales of top 10 developers increased to 17.19 percent in 2014 from 13.72 percent in 2013.
Vanke and Greenland topped the list in 2014 with the sales of 212 billion yuan ($34.14 billion) and 20.1 million square meters respectively, according to a report compiled by private research agency China Real Estate Information Corporation (CRIC) and Real Estate Appraisal.
Property sales of 20 major developers tracked by the CRIC grew 18 percent in 2014, 7 percentage points lower than 2013, 12 of which failed to accomplish their sales target in 2014.
"Chinese real estate sector is expected to continue slowing down in 2015," said UBS chief China economist Wang Tao, adding that monetary easing, policy relaxation and change of market sentiment will likely help the industry rebound sooner than expected.
"We advise companies to prepare a contingency plan, remain cautiously optimistic, and pinpoint a long-term prospect while carrying on transformation," said the CRIC in a report on Dec 31.
The agency expects Chinese real estate developers to rely less on increasing sales scale but on seeking new profitable businesses and consolidating resources through cross-industry cooperation.
Diversified businesses among property developers:
Interior decoration: Chinese real estate behemoth Vanke is exploring business opportunities in interior decoration, said the company's spokeswoman on Wednesday.
The new initiative that are at preparation stage, reported by National Business Daily, will enable Vanke to officially extend its presence by reaching to home owners who have refurbishment needs and live outside of the company's own properties.
Property management: Fantasia Holdings Group spun off its property management subsidiary in June last year.