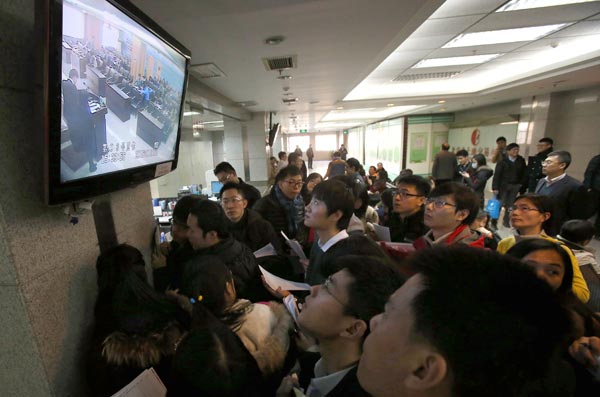 Representatives of real estate developers watch a land auction through closed circuit TV in Beijing on Monday. In 2014, the Beijing government raked in 191.7 billion yuan from land sales, up 5 percent yearonyear. WANG GUIBIN / FOR CHINA DAILY
Price tags shattered as developers snap up five suburban sites
Beijing's land market started the year with five plots sold at record prices within three days, underscoring how the capital remains red hot as developers shun smaller cities.
A consortium including China Resources Land Ltd and Ping An Real Estate Co won a large residential site in the southwestern Fengtai district on Wednesday for 8.625 billion yuan ($1.39 billion), making it the most expensive plot in the capital's history.
The price tag, 22 percent higher than the government's opening price, represents 20,600 yuan per square meter. Excluding some apartments that will be subject to price caps, the winning bid works out to more than 50,000 yuan per sq m.
Mao Daqing, chief executive of the Beijing division of the nation's second-largest developer, China Vanke Co, told reporters after the auction that the city's housing price will enter the "above 60,000 yuan (per sq m) era" in 2015. The company participated in the auction but did not win the bids.
Wednesday's deal broke the record held by a commercial-residential site in downtown Beijing's Huajia Hutong, which was sold to Beijing Huarong Infrastructure Investment Co Ltd for 7.46 billion yuan in August.
Just two days earlier, a consortium including The Wharf (Holdings) Ltd and China Merchants Group paid 8.6 billion yuan for two adjoining sites in Fengtai. The winning bid was 50 percent above the floor price.
In just three days, Beijing's district governments, all in suburban areas, sold five plots worth 17.93 billion yuan.
In 2014, despite an unprecedented property market downturn, the Beijing government raked in 191.7 billion yuan from land sales, up 5 percent year-on-year. It was the largest amount for any local government in the country, according to consultancy China Index Academy, a division of SouFun Holdings Ltd.