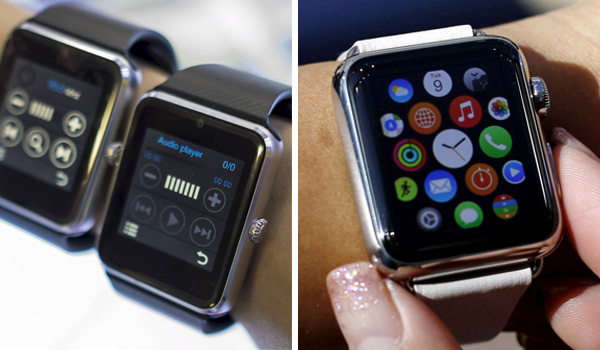 Two Apple Watch look-alike devices (left), made by a Chinese manufacturer, have among their features a built-in camera, and sell for between 320 and 550 yuan ($52 to $89). The Apple Watch (right), the first new product to be launched by Apple under Chief Executive Tim Cook, hit stores on Friday. PHOTOS BY REUTERS
Shenzhen company produces look-alike for a fraction of the price
When Apple delivered the first long-awaited smartwatch to its customers on Friday, a small factory in Shenzhen, Guangdong province, had already sold tens of thousands of Apple Watch look-alikes worldwide for a fraction of the price.
Zheng Yi, founder of smartwatch factory YQT Electronic Technology, is expecting "explosive demand growth" this year because of the Apple Watch release.
"Apple ignited customers' craze for wearable devices. We will definitely benefit from it," he said, sipping a cup of tea at his office close to the Shenzhen airport.
Less than 10 meters from his office, workers were assembling prototypes of a low-end smartwatch for children. Noise from the exhaust system in the workshop drowned out the roar of passenger jets overhead.
Zheng's company makes a smartwatch very similar to Apple's device at first glance. It is capable of tracking your steps, receiving short messages and browsing Web pages. The device, named Smart Watch, sells for around 300 yuan ($48), a fraction of the cheapest Apple wearable, which sells for 2,588 yuan.
The 38-year-old, who graduated from China's elite Zhejiang University with a degree in urban planning, said his device is a "completely different product" compared with the Apple Watch. "All we did was to borrow some of the outstanding features from Apple and add our own watch. We did not copy them," according to Zheng.
The device beats Apple Watch's embarrassing 18-hour battery life, and the imitation can take low-quality pictures, a function that the Apple Watch does not have. The 40 engineers also moved the positions of the crown, the microphone and the speaker on the watch so that Zheng could apply for an appearance patent in China to avoid potential legal problems.
Apple did complain about YQT's wearable after the Cupertino, California-based giant found that the Chinese company used the exact same setting icon in its device. YQT quickly replaced the icon.
Apple did not reply to an e-mail from China Daily seeking comment.
John Fang, business analyst at China Market Research Group, said the cheap imitations will not defeat Apple Watch despite the significantly lower price tag.
"The knockoffs only attract those who cannot afford the real ones. But I think the vast majority of consumers would still buy Apple products from a trustworthy channel," Fang said.
Apple's "most personal device" was not hurt by the knockoffs and was received with initial success in China. The company is not able to provide products for walk-ins because of short supplies. The earliest delivery date for online orders was pushed to June. Apple did not disclose the number of smartwatches available for sale in China.
It will be extremely tough for an unknown manufacturer to take on Apple, analysts said.
"Apple commands a huge, loyal customer base who are already part of the brand's ecosystem and willing to embrace their latest offering," said Jack Chuang, associate partner at OC&C Strategy Consultants Greater China. The company is attempting to maximize the consumer base by introducing devices at all price ranges, Chuang said.
Although Zheng admitted it is impossible to take down Apple or Samsung with current products, he remains optimistic about a potential faceoff against Apple in the long run.
"We've been making smartwatches for more than seven years. Apple is a latecomer. We have more experience in this field and it is a huge advantage," he told China Daily.
The company makes 85 million yuan in annual revenue.
"To build a company like Apple, we need to build better brand awareness, and making knockoffs is not going to help," he added.