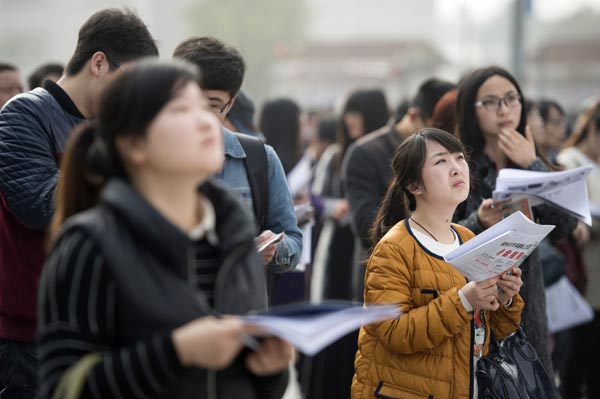 Job seekers look for employment information during a job fair in Hangzhou, Zhejiang province, in March. Ju Huanzong / Xinhua
The number of jobs created in the first quarter decreased for the first time since the global financial crisis, and a senior official warned of the growing impact on the job market of slower economic growth.
The country created 3.24 million new jobs in the first quarter, down by 200,000 compared with the same period last year, according to the Ministry of Human Resources and Social Security.
It is the first time the number of newly added jobs has decreased in the first quarter since 2009, when they dropped by 350,000 during the global financial crisis.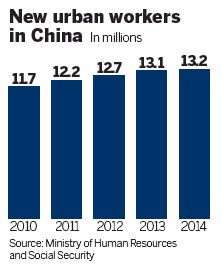 "It is a change that is worthy of our close attention," said Xin Changxing, vice-minister of human resources and social security, in a news conference at the State Council News Office on Friday.
Xin said one reason for the decrease might be that the Spring Festival this year fell on Feb 19. A large number of migrant workers did not return to urban areas from their family reunions for new job opportunities until the Lantern Festival on March 5.
"Meanwhile, the figure might also show that the growth in the number of people employed in urban areas decreased because of the downward pressure of the economy. We need to stay vigilant for that," Xin said.
He added that the country's slowing economic growth has not been reflected in the unemployment figures, as the urban unemployment rate stayed at 4.05 percent in the first quarter, which is even lower than the 4.08 percent in the same period last year.
According to the National Bureau of Statistics, China's economic growth fell to a six-year low of 7 percent in the first quarter. "The change in the employment market might lag behind the major economic indicators," Xin said.
However, he said that economic growth is still enough to beef up the employment market.
"The restructuring of the economy, especially the expansion of the service sector, must be taken into account as the sector is the most effective in the creation of new jobs," he said.
The decrease in the number of new jobs has the attention of the State Council. The central government rolled out a string of measures on Tuesday to stimulate employment, including expanding taxation reduction and exemption policies to cover sole-proprietorship enterprises.
A statement released after a State Council executive meeting presided over by Premier Li Keqiang said that the country is facing growing pressure on employment this year.
The government has to launch more active employment policies and give full support to mass entrepreneurship and innovation, the statement said.
xuwei@chinadaily.com.cn