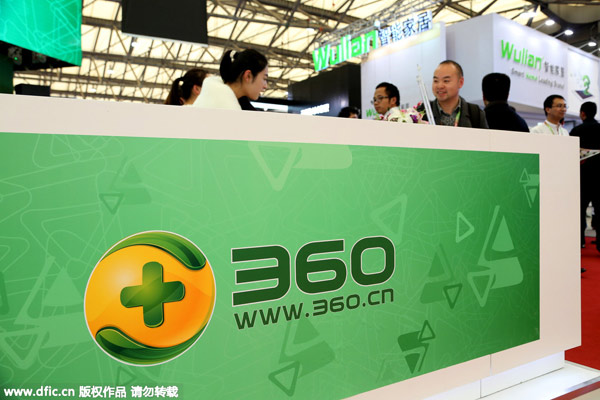 People visit the stand of Qihoo 360 during the 2015 Appliance and Electronics World Expo in Shanghai, Mar 13, 2015. [Photo/IC]
An Internet company "knowing nothing about real estate" announced partnership with a property developer "knowing nothing about the Internet" to develop resident-friendly smart homes.
Qihoo 360 Technology Co unveiled the cooperation plan with Huayuan Real Estate Group on Wednesday, aiming to complete the first smart community project by the end of this year.
"Our initiative centers on guarding and caring for elderly and children, who spend the most time at home," said Zhou Hongyi, founder and chief executive officer of Qihoo 360, at the launch event.
"Smart homes shouldn't be a technology show," he said, adding that products should be liked and frequently used by all.
The US-listed Internet security firm currently offers smart devices including real-time camera, kids' safety watches with GPS and mobile functions, and routers that can store data and control other appliances. Its newly launched smartphone will likely be available for sales next month.
Qihoo 360 earlier announced plans to invest at least $1.6 billion to create more smart-home products.
The smart communities co-developed with Huayuan will offer residents packages tailored for children of different age, according to the Internet magnet.
Cooperation will enable the two companies to better understand and deliver customers' demand, said Ren Zhiqiang, a well-known entrepreneur and former chairman of Huayuan Group, at the launch event.
According to the plan, the smart-home drive will first kick off in Changsha, Hunan province, and later expand to projects in Beijing and Shanghai.