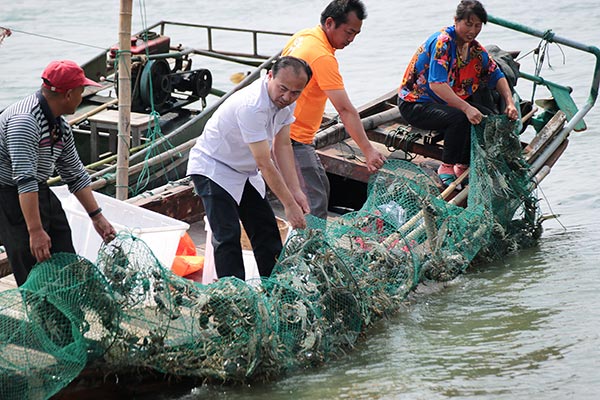 Fishermen harvest hairy crabs in Jiangsu province. Thanks to a cross-Straits agricultural initiative between Shanghai and Taiwan's Miaoli county four years ago, baby crabs are shipped from breeding farms in Shanghai to crab farms in Miaoli every January.[Provided to China Daily]
Cross-Straits agricultural initiative paves the way for boom in farmers' food trade
The small village house courtyard filled with makeshift tables doesn't look much like a spot for fine dining. But the restaurant in central Taiwan's Miaoli is always fully booked during the few months it is open each year.
Customers come from late autumn to mid-winter for fresh crabs the owner, Chen Yun-yung, has raised in the three medium-sized ponds beside the house.
These are not the sea crabs that people in Taiwan are familiar with, but freshwater Shanghai hairy crabs found in the lower reaches of the Yangtze River.
For Chen, a teacher at a local vocational school for more than three decades, running a crab farm was a dramatic change.
"My wife loves Shanghai hairy crabs. We used to go to expensive restaurants just for a bite of them every crab season. When I retired from the school in 2012, I thought, why not raise crabs," said Chen, who inherited some farmland from his father.
His retirement plan coincided with a cross-Straits agricultural initiative by the local government. The Miaoli county government reached an agreement with Shanghai to ship in hairy crabs in 2011.
Every January, baby crabs are shipped from breeding farms in Shanghai to crab farms in Miaoli. Under the agreement, experts from Shanghai Ocean University visit the crab farms once or twice a year to train locals in raising the crustaceans.
"The professors are very helpful. In the first year, the harvest was not good because I did not carefully follow their instructions. In the following years, I listened to them and strictly followed their methods, and the harvest was decent," Chen said.
This year, about 3,500 crabs were harvested from Chen's ponds, earning him about NT$500,000 ($15,600).
Currently, Miaoli has about 75 crab farms with a total area of 35 hectares, which produce about 150,000 crabs every season.
"All of them are sold to Taiwan customers and often sell out," said Chen Shu-i, deputy head of the county's agriculture department. "Some foodies used to fly to Shanghai for crabs, but now they come here."
After three years of trials, Miaoli farmers started raising high-quality crabs. This year, they won three awards at a high-profile crab contest in Shanghai and even beat farmers in Jiangsu province, where the hairy crabs were first raised, in terms of taste.
The crabs have been bought by high-end restaurants that used to only purchase crabs from the mainland. This autumn, LDC Hotels & Resorts Group, a major hotel chain, started ordering crabs from farmers in Miaoli.
"We served the crabs at restaurants at our two hotels. The feedback was favorable and sales were good. We decided to expand to seven hotels next season," said a statement from LDC.
The crabs have not only drawn diners but also helped other businesses.
"In addition to having a crab feast, visitors will stay overnight, bathe at local hot spring bathhouses and bring home farm produce," Chen Shu-i said.
Crab farms directly yield an annual revenue of NT$45 million, but also contribute an additional NT$200 million in revenue in other sectors, he said.
Local farmer Chung Fu-kuei built an eco-farm centered around his crab ponds, planting vegetables and raising ducks around the ponds. He also runs a campsite beside the ponds.
"Crabs are the major attraction, but customers can do much more than dine. They can set up a bonfire and party at the campsite. I also explain how the crabs are raised. Kids love my tours," he said.
Crab farms help fill the gaps when local farmers have to leave paddies fallow for a couple of years, he said.
"The government subsidy for land fallow is thin. Now when we turn the land into crab ponds for a few years, the soil is restored and incomes haven't dropped," he said.
The example of Miaoli's success has brought farmers from other counties such as Yilan and Hualien in eastern Taiwan into the business.
Taiwan crab farms will follow a different pattern from mainland counterparts, said Chen Shu-i.
"We cannot compete with the mainland farms on size and harvest. We have to combine farming with leisure industries and focus on catering to individual customers," he said.