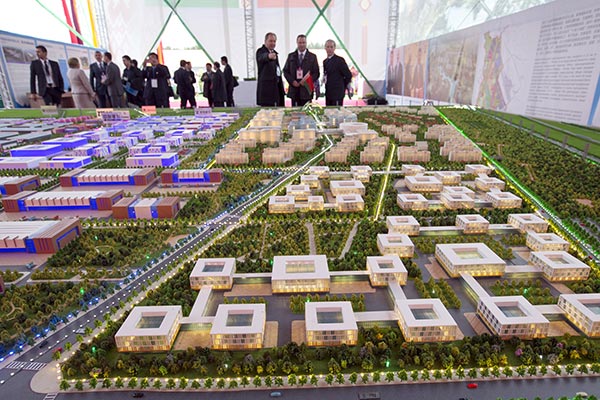 Visitors look at the model of the China-Belarus industrial park near the village of Bykachino, east of Minsk.[Photo/Agencies]

Unbelievably low tax rates make binational industrial park near Minsk, China's largest overseas project, special
China National Machinery Industry Corp (Sinomach) and China Merchants Group, as the main Chinese shareholders, have stepped up the construction of the China-Belarus Industrial Park to turn it into a high-tech industrial area with 180,000 residents within 25 years.
The project is the largest industrial park that China is involved in overseas and the largest one in Belarus. It is expected to host more than 200 high-tech companies and create more than 155,000 jobs when it is completed.
"It is a key project in China's One Belt One Road program," said Luo Yan, chairman of China-Belarus Industrial Park Development Co Ltd that is responsible for the comprehensive development of the industrial park. It is a joint venture in which China holds a 68 percent stake and Belarus 32 percent.
Sinomach, a State-owned enterprise that is a diversified international equipment industrial group committed to providing high quality services globally.
China Merchants Group, a State-owned enterprise in Hong Kong that is an important investor and operator in transport infrastructure industry, which focuses on transportation, financial and real estate industries.
"Belarus is at its initial stage of opening up with a strong willingness to attract foreign investment, which is exactly what the industrial park does," said Luo.
"We have been actively helping Belarusian companies to get registered in the park so as to broaden their international market and introducing Chinese enterprises to the park. Now, one of the first Chinese residents in the park, YTO Group Corp, an agricultural and construction machinery manufacturer, has initiated collaboration with Minsk Tractor Works."
China and Belarus reached an intergovernmental consensus on building the park in March 2010. The project was finally agreed in September 2011 when an intergovernmental agreement between China and Belarus was inked in Minsk during a visit by the then top Chinese legislator Wu Bangguo.
Chinese President Xi Jinping calls the park "a pearl on the Silk Road economic initiative".
"We need to build the park into an exemplary win-win project between China and Belarus," Xi said during a state visit to Belarus in May.
The park, nicknamed "Great Stone," is located 25 kilometers to the east of the capital city Minsk, in proximity to the Minsk National Airport. It is on the route of the international highway M1 which extends to Moscow on the north (a distance of 700 kilometers), and to Berlin on the south (a distance of 1,000 kilometers). It covers an area of 91.5 square kilometers with a forestation rate of more than 50 percent.
The construction of the park is expected to take 25 years. The first phase, which will take 7 years, covers an area of 8.5 square kilometers.
As per the master plan, the region will consist of manufacturing and commercial logistics bases, technological research and service outsourcing areas.
The park will be home to enterprises from sectors like electronics, information technology, machinery manufacturing, biomedicine, fine chemical engineering, new materials, warehousing and logistics.
Since Belarus is a member of the Eurasian Economic Union, products in the park can be exported directly to Russia, Kazakhstan, Armenia and Kyrghyzstan, a market of 170 million people, at zero tariff.
Belarus has adopted a "10+10" preferential taxation for the park. This includes exemption from all corporate taxes during the first 10 years since the day of registration as a park resident, and 50 percent cut in current tax rates during the subsequent 10 years.
Employees of companies operating in the industrial park enjoy benefits of personal income tax rate of just 9 percent, 25 percent lower than the ordinary level in Belarus.
"The extent of the favorable tax policies is rarely seen in the world," said Li Haixin, general manager of China-Belarus Industrial Park Development Co Ltd. "This has shown the determination on the part of Belarus to attract business to the park."
Belarusian President Alexander Lukashenko calls the park the country's most important joint venture.
"China has made tremendous progress and has become a world leader in many fronts," Lukashenko told the Minsk Times. "We need to learn."
China Merchants Logistics Holding Co Ltd, YTO Group Corporation, Zhongxing Telecommunication Equipment Corp, ZOOMLION, Xinzhu Corp, Juxin Corp and Huawei Technologies Co Ltd are among the Chinese enterprises that have registered in the park so far.