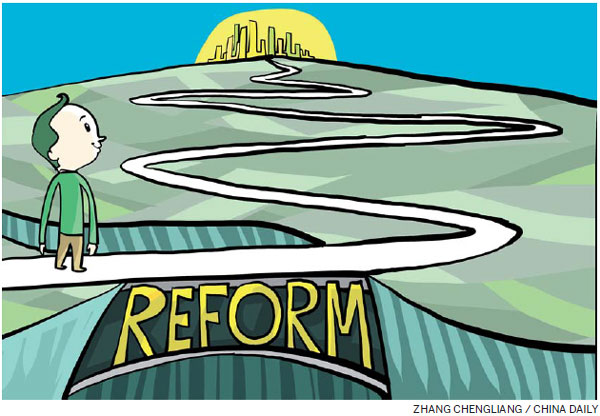 Slashing the number of inefficient and unprofitable "zombie enterprises" is the priority for China's "must-do" list next year, a senior central government official said on Sunday.
Yang Weimin, deputy director of the Office of the Central Leading Group on Financial and Economic Affairs, was speaking in Beijing at a forum held by the China Center for International Economic Exchanges, a government think tank.
"The pain is inevitable, but it is a necessary part of the leadership's shift to supply-side reform next year," he said.
Such reform aims to achieve sustainable growth by lowering barriers to production.
The State Council early this month decided to tackle enterprises that have been running at a loss for more than three years. Such companies cannot meet the national standards for energy use, environmental protection, quality and safety even by restructuring assets, selling property rights, or being allowed to file for bankruptcy.
The purpose is to substantially cut the number of enterprises running at a loss, according to a statement released by the State Council.
Officials have yet to disclose the number of the State-sector "zombie enterprises".
But according to the Ministry of Industry and Information Technology, in the vehicle-making industry alone, there are 92 enterprises considered to be incapable of making new products, based on their sales records for the past two years.
The number of these enterprises has doubled from two years ago. Industry experts said a list of such enterprises will be published as part of the process leading to official bankruptcy.
Many zombie enterprises exist in low-tech, energy-intensive industries such as steelmaking, construction and general machinery.
Zhang Wenkui, an official at the State Council Development Research Center, said they comprise a large part of uncompetitive industrial capacity, and closing zombie enterprises is interrelated with shedding excessive capacity.
Zheng Gongcheng, a member of the National People's Congress Standing Committee, said there are a great many zombie companies among State-owned enterprises. "Their existence can only increase financial loss and the pressure to repay debt."
Yang added that the government must pursue its goal carefully to avoid problems arising from re-employment.