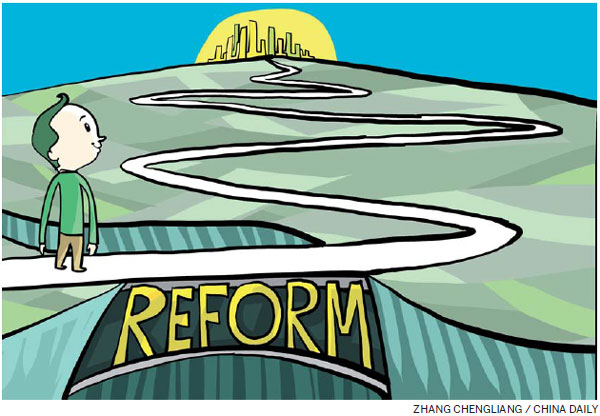 Top leadership devises strategy aimed at spearheading economic transition
China's top leadership, which is preparing to launch the 13th Five-Year Plan (2016-20), on Monday announced an overarching strategy to lead the economy's ongoing transition.
President Xi Jinping said the country's emphasis next year will be on supply-side reform, or a package of supply-side policies to release new demand and boost new productivity.
He was speaking at the conclusion of the Central Economic Work Conference, which was held along with the Central Urban Work Conference.
Economists said this means that China will no longer seek to fuel economic growth solely by using fiscal and monetary measures to boost capital investment, consumption and exports.
Instead, the government will be more focused on devising policies which, from the supply side, are aimed at helping the industries it wants to support. Outdated businesses will also be phased out.
The Central Economic Work Conference has pledged to launch a series of policies next year that have been discussed for a long time, including more tax cuts, incentives for specific industries, regulatory reforms and more aid to lift people out of poverty.
Supply-side reform covers two areas, according to the political magazine Outlook. One of these is to readjust the economic structure-crucially by shedding excessive industrial capacity.
The other is to use institutional reforms and innovation-not merely financial stimulus measures-to boost growth, such as subsidized sales of empty housing to migrant workers from rural areas.
The magazine said the more important supply-side reform is to continue to streamline the government's administrative power over business and to provide policy-level convenience for private entrepreneurs.
Ba Shusong, chief economist at the China Banking Association, said it was the first time that top leaders had raised supply-side reform as guidance for the future and for all restructuring efforts.
Guan Quan, a professor at the School of Economics at Renmin University of China, said supply-side reform inevitably focuses on long-term structural change rather than short-term stimulus. "It is a strategy leading more directly to higher productivity and lower operational costs," Guan said.
Industries that cannot satisfy market demand will be upgraded. Those related to consumption, logistics, medical and healthcare will probably see stronger growth, Guan added.
Qu Hongbin, chief China economist at HSBC Holdings, said China's supply-side reform is likely to continue to 2020, adding, "Urbanization, industrial upgrading, financial liberalization and green investment will be the top priorities."
Zhu Haibin, chief China economist at JPMorgan Chase, said that by promising a series of supply-side reform efforts, China has sent "a very positive signal".
What supply-side reform involves
China used to rely on three major forces to drive economic growth-investment, exports and consumption, which are classified as the demand side.
As the effectiveness of boosting growth in the demand side wanes, the government has started to reform the supply side, or the supply and effective use of production factors, including funds, resources, skilled workers, equipment and technologies.
The reform aims to accelerate economic growth by freeing up productivity and raising supply-side competitiveness. Measures will include cutting excess industrial capacity, reducing housing inventories and cutting production costs with police support.