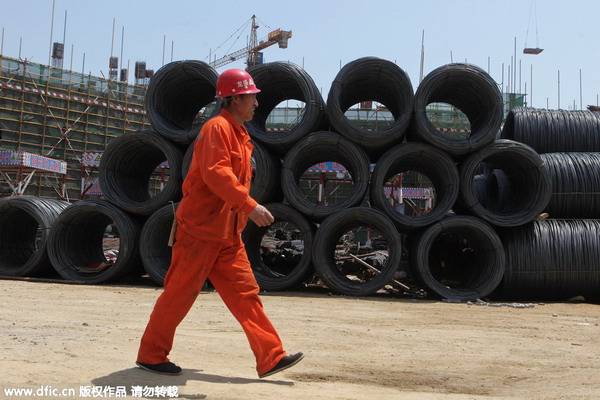 A Chinese worker walks past a stack of coiled steel rods on a quay in Rizhao city, East China's Shandong province, April 29, 2015. [Photo / IC]
Mergers among China's central State-owned enterprises (SOEs) will be fast tracked over the next few years as the country overhauls the underperforming sector to deepen economic reforms.
Experts say sectors such as steel, electricity and railways will bear the brunt amid massive restructuring, the Shanghai Securities News reported on Tuesday.
Meanwhile, the rare earth industry, with its national strategic significance, will also be consolidated in a bid to streamline the market and improve its competitiveness, said the report, quoting SOE reform expert Zhou Fangsheng.
According to a document issued late last month by the State-owned Assets Supervision and Administration Commission, the country's SOEs will undergo classified consolidation, with the final number being cut from 112 to 40.
Mergers and acquisitions (M&As) among State-owned enterprises are surging, with the number hitting 481 last year, a compound average growth rate of 72.9 percent from 2008. The scale of M&As assets exceeded $30 billion last year, according to a report by the Zero2IPO Research Center.
The number may continue to grow as a new wave of M&As is imminent in the second half of this year, boosted by the country's "Made in China 2025" strategy and the Belt and Road Initiative, the report said.
State firms' consolidation is at the heart of China's economic transformation that entails a relocation of resources to cut overcapacity amid meager domestic demand, especially in traditional heavy industries.
Iron and steel, among others, has been struggling in recent years. Statistics show the industry's profit in the first quarter stood at 18.1 billion yuan ($2.92 billion), down 36 percent from a year earlier. About 50 companies shared a loss of 10.3 billion yuan during the same period, said the newspaper.
The predicament is unprecedented for the sector which can only be saved through restructuring and M&As, the newspaper cited industry insiders as saying.
For the rare earth industry, necessary restructuring will largely help enhance its competitiveness globally, ensuring sound and sustainable development.
The country's pricing power of rare earth is of great significance, not just economically, but politically and diplomatically, experts said.