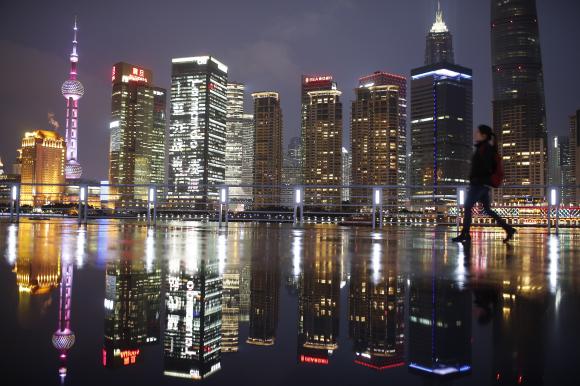 A woman walks at the Bund in front of the financial district of Pudong in Shanghai March 5, 2015.[Photo/Agencies]
China is poised to embark on a fresh round of industrial consolidation, as part of a sweeping plan to reinvigorate the country's inefficient State-owned enterprises and raise the global competitiveness of domestic industry.
The initiative, dubbed "Made in China 2025", focuses on promoting key sectors, led by railways and nuclear power plant construction, in offshore markets, in Beijing's latest move to create leading international giants.
"Without size and strength internationalization is fairly difficult," said Li Dongsheng, chief executive of Chinese mobile telephone and television set giant TCL Corp, explaining the rationale behind consolidation.
A restructuring plan, expected to be released before the end of March, will address issues ranging from the establishment of asset management companies to oversee State shareholding, to the introduction of non-State investment and performance-based compensation programs at government-controlled firms, experts say.
Improving the efficiency at State-owned enterprises (SOEs), which dominate crucial sectors of China's economy, is critical as the country struggles to maintain a growth it has delivered for two decades.
Premier Li Keqiang outlined the "2025" strategy, which also includes promoting machinery and communications equipment, automobiles, aircraft and electronics, in his address to the annual gathering of China's parliament, which concludes later this week.
National champions
China has been experimenting with the creation of large, globally-competitive groups since the 15th Party Congress in 1997. While mergers in the nuclear and railway industry anchor the current round of consolidation, Beijing may further shake-up other top manufacturers, as it seeks to create more national champions and boost exports of high-end equipment.
On the same day last week that Li introduced the 2025 plan, the country's state assets regulator approved the tie-up of leading train makers China CNR Corp Ltd and China CSR Corp Ltd, after the two companies announced a merger plan in December.