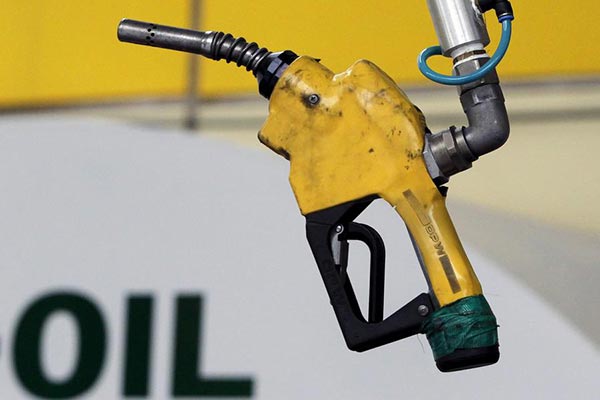 A gas pump is seen hanging from the ceiling at a petrol station in Seoul in this June 27, 2011 file photo. [Photo/Agencies]
NEW YORK - Crude prices have gone down nearly 30 percent this year, and analysts expect oil prices to remain low for even longer.
Boon for consumers
Lower oil prices are generally good for US consumers and the economy, said Jason Bordoff, founding director of the Center on Global Energy Policy with Columbia University, in an article.
"Gasoline prices are currently at the lowest level for this time of year since 2006, ... Those gasoline savings of nearly $100 per month per household will act like a tax cut for consumers and could stimulate the US economy," he wrote.
Oil is the primary cost for making gasoline, and every $10 decline in the cost of oil can reduce gas prices by nearly 25 cents per gallon.
US average gas prices dropped below $2 per gallon on Dec 21 for the first time since March 25, 2009. More than two-thirds of stations across the United States are selling gas under $2 per gallon, according to American Automobile Association (AAA).
AAA estimated that cheaper gas prices have saved Americans more than $115 billion on gasoline so far this year, or more than $550 per licensed driver. More than 91 million Americans plan to take advantage of cheaper gas prices to drive 80 kilometers or more during this holiday period.
"Drivers across the country are celebrating the historic return of cheaper gas prices," said AAA's President and CEO Marshall Doney. "The lowest gas prices in nearly seven years are a holiday gift that few consumers could have imagined when gasoline was $4 a gallon."
Supply glut
Brent oil price hit 11-year low on Dec 21, while US oil price hovered around the nearly seven-year low area.
"The plunge of crude price is simply a prospect of big supply build up, strong production from both OPEC side and non-OPEC side," said Raymond Carbone, crude trader of Paramount Options.