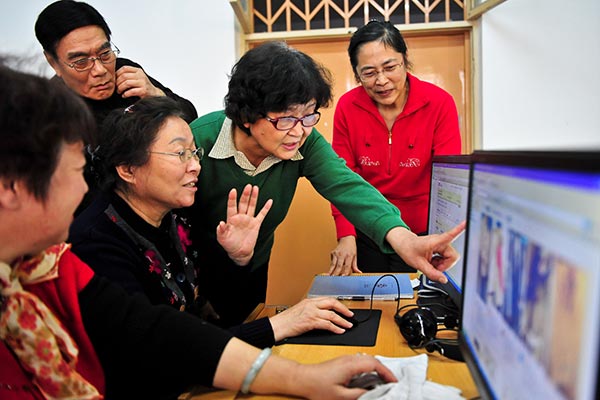 Retired people learn to shop online. A recent survey shows Chinese shoppers tend to stick with British e-retailers if they like what they buy in shops in the United Kingdom while on holiday.[Provided to China Daily]
China's army of online shoppers has helped make the United Kingdom the world's third-largest online exporter, after the United States and China, research has revealed.
A report released in November by PayPal and market researchers Ipsos MORI said 21.9 million Chinese had logged on to UK websites to buy goods in the previous 12 months.
Based on a survey that covered 29 countries, researchers found that 59 percent of Chinese respondents had purchased clothing, footwear and accessories from the UK in the past year; 57 percent cosmetics and other beauty products; and more than 40 percent groceries, food, drink and alcohol.
The findings show that the UK's e-retailers have received a major boost from Chinese shoppers, who according to the survey were attracted by product authenticity and secure online payment systems.
Deirdre Wells, chief executive of trade association Ukinbound, said a surge in Chinese tourists to the UK in recent years could be a factor in the e-commerce link, as shoppers stick with British retailers if they like what they buy while on holiday.
Chinese tourists contribute about 500 million pounds ($751 million) a year to the UK economy. Overall, the number of visas granted to Chinese nationals has almost trebled in the past five years, from 115,000 in 2009 to 336,000 last year. Meanwhile, spending has increased by 326 percent, with individuals currently spending on average 2,688 pounds per visit.
British brands are already associated with quality and heritage, but Wells is encouraging businesses to make their products attractive to Chinese by providing UnionPay as a payment option and becoming more active in pushing their brand on Chinese social media.
According to the PayPal/Ipsos survey, 86.4 million online shoppers worldwide had bought from British e-retailers in the previous 12 months. Other than Chinese, the next largest group was Americans (9.1 million).
The research also showed that Chinese shoppers take notice of seasonal promotions: 43 percent said they are more likely to buy from a foreign website during Christmas holiday sales, Black Friday or Singles Day, which falls annually on Nov 11.
Cameron McLean, UK managing director for PayPal, says there are "clear lessons for British businesses" in the figures. "Your customers expect to shop on websites in their own language and want to pay in their own currencies-and may buy from your rivals if you don't offer that experience," he warned.
Many British e-retailers are already investing in having their websites translated into Mandarin to target China's high-spending middle class, added Yaron Kaufman, chief marketing officer at One Hour Translation in Singapore.
Over the past two years, he said, the company has seen a noticeable increase in customers wanting English-to-Chinese services. Most are from the United States, with UK firms not far behind.