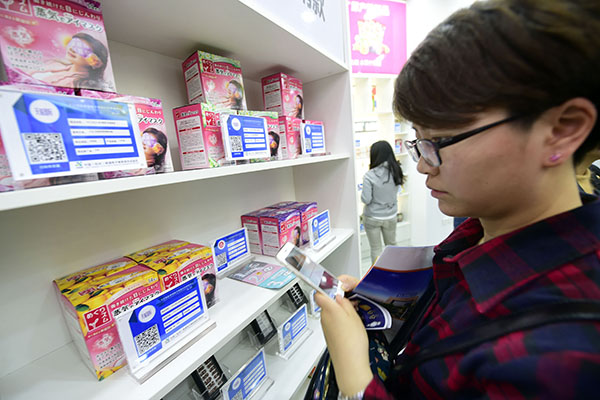 A customer scans a quick code at a bricks-and-mortar shop to place a cross-border online order for goods in Hangzhou, Zhejiang province. [LI ZHONG/CHINA DAILY]
Wang Xiaoting, 29-year-old nurse in Shanghai, was surprised to find out that an online brand she shops with frequently had opened a bricks-and-mortar store in the city.
"I often hear of brands starting online operations and how e-commerce has been taking away market shares from department stores. It is interesting to see the trend in reverse," said Wang.
Wang is not alone. Many consumers have observed that brands which once only sold products on online platforms are now starting to open bricks-and-mortar stores as they wish to expand their business.
In November, Hong Kong-listed New World Department Store China Ltd began operating online-to-offline sales channels with the online fashion brand INMAN in Shanghai. This is also the first O2O integration program between a fashion brand and a listed department store.
One of the major fashion brands by sales volume and number of consumers, INMAN sold products online to some 6 million customers by November, with sales revenue of more than 1 billion yuan ($156 million).
"We seek to expand offline sales to some 10 percent of total revenue by the end of 2016, and 30 percent by 2020," said brand founder Fang Jianhua.
Cooperation between the department store and the online fashion brand is a pioneering model that enables a bricks-and-mortar store to become an effective showroom and change fans of the online brand to foot traffic in a store.
Analysts said that it is a natural trend for brands which emerge and evolve on online platforms to seek more consumers at bricks-and-mortar store.
"Brands that start from online platforms enjoyed the privileges of lower costs and more convenience in terms of starting an e-business than their peers starting from bricks-and-mortar stores, which are required to have more assets and undergo more procedures during registration. However, as brands develop to become famous and wish to win more consumers and market shares, a multiple channel strategy is a must," said Siu Wing Chu, head of retail at Savills China.
Besides providing more direct contact with consumers, department stores, particularly exclusive ones, are also offering other benefits to online brands, such as helping brands to build up an image of reliability, authenticity and quality because exclusive department stores usually do strict screenings of brands before deciding which are allowed to enter the store, said Chu.
Multiple channels are also affecting consumers' habits as they are aware of differences between online shopping and offline consumption, and bricks-and-mortar stores are no longer just fitting rooms or window displays as they were in the past couple of years.
Sun Jingyun, a 22-year-old college student, said that shopping at a department store provides a real-time experience and helps her make proper decisions and reduces impulse buying.