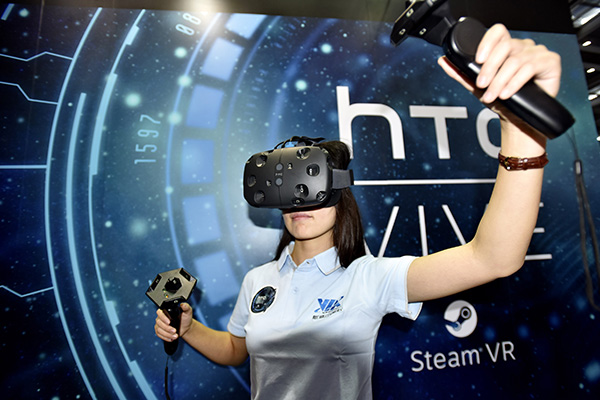 HTC VR equipment are demonstrated at an industry expo in Shenzhen, Guangdong province in 2015. [Photo/Xinhua]
HTC Corp is working on developing smartphone-based virtual reality goggles, as part of its broader efforts to diversify and boost revenues.
The announcement comes shortly after the company also opened pre-orders for its new $799 HTC Vive VR headsets, which currently only work with personal computers and consoles.
Raymond Pao, its associate vice-president of VR new technology, said: "We have been working on VR equipment that can work with smartphones and tablets.
"It is a very important research direction, but we will only release the mobile version when we think it can deliver the best immersive experience to consumers."
Virtual reality equipment allow consumers to experience a 360-degree digital world where they can fight against zombies, ride spaceships and perform other tasks which are impossible or difficult in real life.
Pao declined to reveal exactly how many Vive headsets had been pre-ordered so far, but said the results were "beyond our expectations".
HTC's VR product specialist Shen Ye said earlier in a Twitter post the company sold more than 15,000 units in the first 10 minutes, when orders started being taken on Feb 29.
The equipment, which include a headset, two wireless controllers and two motions sensors, will begin hitting the streets next month.
HTC is competing with Facebook Inc's Oculus Rift and Google Inc-backed Magic Leap in the race for the control of the nascent VR market.
Alvin Wang Graylin, who is in charge of HTC's VR business in China, said the company is planning to open more than 100 VR experience stores this year.
He said the company is also in discussion with partners like Internet cafes in many countries.
In November, HTC inked a deal with Hangzhou Shunwang Technology Co Ltd, a company that offers management software to Internet cafes in China.
Under the pact, the two companies will cooperate on promoting VR games in China.
Research firm Digi-Capital estimated the global VR industry will be generating $30 billion in revenue by 2020, split 50/50 between VR games, and hardware, films and theme parks.
She Shuanglin, an analyst at Beijing-based Internet consultancy Analysys International, said HTC is betting big that its VR equipment will boost revenues, after the company's core smartphone business was hit by stiffening competition.
"HTC is a leader in PC-based VR headsets which chiefly target hardcore gamers and movie fans.
"The involvement in smartphone-based VR goggles will help it reach more consumers, especially those who are more price-sensitive."
She said HTC is likely to roll out smartphones which are specially designed to bring VR experience into full play.
"Such smartphones will give the company an unrivaled edge over competitors, but it is not an easy job."