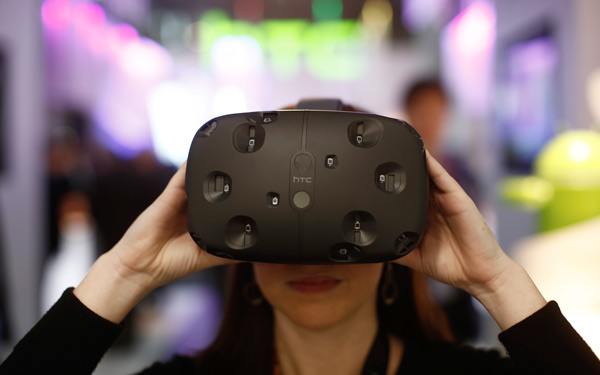 An employee demonstrates an HTC Vibe virtual reality headset in the HTC Corp pavilion at the Mobile World Congress in Barcelona, Spain, in March 2015. [Photo/Agencies]
In the next 10 years, the Taiwan-based firm will focus on the 'disruptive innovation' that 'will transform the way we interact with the world'
Taiwan-based smartphone marker HTC Corp has diversified its range of products by investing in virtual reality or VR devices amid a declining demand for cell phones in the global market, the company's CEO has said.
Cher Wang, co-founder and CEO of HTC, said in an exclusive interview with China Daily that the company will be focusing on the virtual reality devices in the next 10 years. HTC will continue to make smartphones.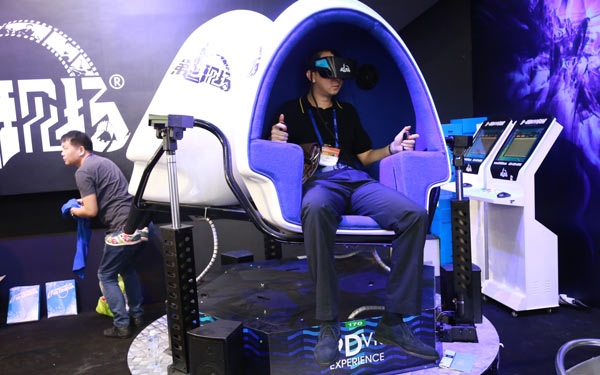 A man watches a 9-dimensional movie supported by the virtual realty technology in Shenzhen, Guangdong province, at the 17th China High-Tech Fair in November. [Photo/Provided to China Daily]
"Virtual reality will transform the way we interact with the world. We can see enormous business opportunities arising from this disruptive innovation," Wang said.
Users are restricted by screens when using phones and computers, but the VR devices will offer them more colorful and diverse experience in a broadened horizon, she said.
HTC Vive, the company's first VR device, was launched on Dec 18 in Beijing. The high-definition head-mounted device can transmit images and sound to make the virtual world seem real to users. It is assisted by two location trackers and a pair of wireless controllers.
The device can achieve a real-time interaction between the user and the image-and-hearing effect in a fully immersive, room-scale experience with 360-degree movement.
The device, designed for areas such as online gaming, medical care and educational purposes, made its debut in Shenzhen, Guangdong province, at the China High-Tech Fair in November. It attracted thousands of visitors who were keen on experiencing the new technology.
According to iResearch Consulting Group, the global market value of VR devices is estimated to reach $30 billion by 2020, 10 percent of which will come from head-mounted VR devices like HTC Vive.
Such estimates have sparked enthusiasm among manufacturers in Taiwan as well as the Chinese mainland. Over the past few months, stock prices of some companies listed in the Shanghai and Shenzhen stock exchanges soared, even doubled, as they unveiled plans to develop VR devices.
Experts told Wang when she was in Beijing that the VR technology can be applied in diverse fields such as surgery and education. "You can imagine a patient being able to see arteries and blood cells inside the brain with the help of a VR device. It will be easier to convince them to go in for a surgery," Wang said.
She said the VR technology can be adopted by car sellers and apartment designers as well. Wang said Audi, a luxury car brand of the German carmaker Volkswagen Group, will install HTC Vive in its flagship stores on the Chinese mainland this year. This will help customers see the car models from different perspectives.
With the help of HTC Vive, people can make informed decisions on home decoration after watching previews of interior design proposals or wall paint colors, she said.
To fine-tune its VR strategy, HTC held its first developers' summit on Dec 18 in Beijing. Top executives from online gaming and virtual reality companies attended the event. More than 300 virtual reality developers, engineers and startup entrepreneurs took part and focused on cutting-edge VR technologies and latest market trends.
Raymond Pao, vice-president of VR technology at HTC, said enterprises on the Chinese mainland, irrespective of their size, are very proactive about embracing new technologies. This creates a supportive atmosphere for technology startups and raises hopes of adequate investment.
"Major companies would like to outsource minor projects to smaller enterprises and then merge them all when the final product is to be made in the United States. However, enterprises on the Chinese mainland would like to try all new things which they believe have great potential," Pao said. "That's why, HTC has found some strategic partners to promote VR devices. This is to provide superb experience when a user tries it."
HTC has forged tie-ups with leading online platforms on the mainland. For instance, it has a tie-up with swjoy.com, a website that has signed cooperation agreements with more than 100,000 Internet cafes across the country. Soon, HTC will install its Vive devices at these cafes to attract young consumers, especially online gamers.
Wang said the first batch of Vive devices will be shipped to buyers in April. She declined to disclose other details.