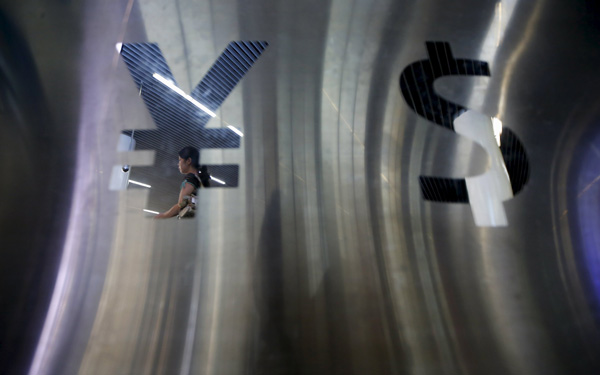 Signs of China's renminbi or yuan and US dollar are seen outside at a foreign exchange store in Shanghai, China, August 14, 2015.[Photo/Agencies]
The renminbi fell to a five-year low against the US dollar on Monday after statistics indicated weaker-than-expected Chinese economic growth momentum in December.
The People's Bank of China, the central bank, cut its daily reference rate by 0.15 percent to 6.5032 yuan to the dollar, the weakest level since May 2011.
In Shanghai, the Chinese currency, which is allowed to diverge from a central bank fixing by a maximum of 2 percent, retreated by 0.25 percent to 6.5097, according to China Foreign Exchange Trade System.
Offshore, the currency's spot rate on the Hong Kong foreign exchange market fell to 6.6108 to the dollar at one stage.
China's December manufacturing purchasing managers index rose to 49.7 from 49.6 in November, less than the market forecast of 49.8. It has been under 50 for five straight months, suggesting a persistent contraction in the sector.
Paul Mackel, global head of emerging markets foreign exchange strategy at HSBC Holdings, predicted that the renminbi will fall further in 2016 to about 6.70 to the dollar by the end of the year.
"In the near-term, there could be stronger US dollar demand against the renminbi, as the latter's depreciation expectations will remain," he said.
"While we expect China's foreign exchange policy to become less resistant to the renminbi's weakness over the comingyear, the risk is that this happens sooner rather than later."
In December, the renminbi lost nearly 2 percent against the dollar.
The fall came as China's top foreign exchange regulator said it would further reduce intervention after the renminbi's inclusion in the International Monetary Fund's Special Drawing Rights basket, making it a global reserve currency.
China Foreign Exchange Trade System also introduced a new index to gauge the renminbi's value against a basket of 13 currencies.
Analysts said this highlights a policy preference for a more independent currency, and the policy is gradually moving toward a freely floating foreign exchange regime.
Liu Ligang, chief China economist at Australia & New Zealand Banking Group, said a weaker renminbi may increase capital flows out of China and "sweep away" liquidity in the financial sector.