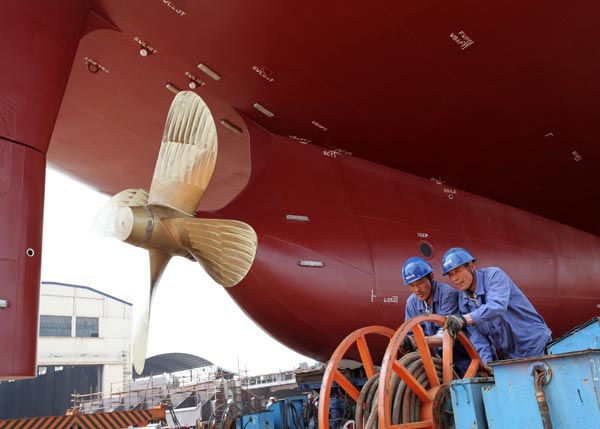 Workers undertake safety checks of a 35,000-ton bulk carrier at a shipyard in Nanjing, Jiangsu province. [File Photo/China Daily]
Experts sound alarm as first State-owned shipbuilder goes under in a decade
Shipyards in China will continue to lag behind their foreign rivals as cumbersome financing conditions and prolonged excess capacity continue to crimp industry profits and push smaller shipyards out, experts said.
Zhoushan Intermediate People's Court announced last week that it had accepted an application from Zhejiang Shipping Group Co to liquidate its subsidiary Wuzhou Shipbuilding and Maintenance Co, making it the first State-owned shipyard to go bankrupt since 2005.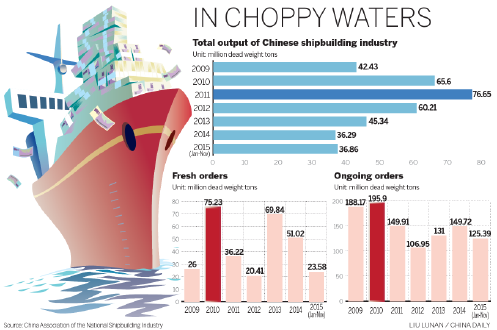 Zhejiang Shipping said that the shipyard's bankruptcy was due to its massive debt burden of 911 million yuan ($140 million), including payment in arrears to workers, parts suppliers and taxation authorities.
Wuzhou Shipyard suspended operations after it delivered a 2,500 twenty-foot equivalent units container ship to Shanghai Zhonggu Xinliang Shipping Co in July. It also has one 2,500 TEU container ship, two barges and one tugboat which remain undelivered.
"Even though the total asset value of the Wuzhou shipyard is not significant, its status as a State-owned shipyard has increased concerns that more Chinese shipyards from both the private and State-owned sectors will face either bankruptcy or passive merger in 2016," said Dong Liwan, a shipping industry professor at Shanghai Maritime University.
Dong said the main products of the Wuzhou shipyard were all low value-added ships including small bulk vessels and container ships, both of which were hit hard by price fluctuations in 2015, with their prices cut by as much as 50 percent.
As the Wuzhou shipyard's main assets are State-owned land-use rights, office buildings, and shipbuilding and maintenance facilities, valued at around 534 million yuan, the court will appoint a receiver for the shipyard and convene a creditor's meeting soon.
More than 30 major large-scale shipyards went bankrupt over the past two years, according to the China Association of the National Shipbuilding Industry, including Jiangsu-based Nantong Mingde Group Co and Jiangsu Daoda Marine Heavy Industry Co and Zhejiang Zhenghe Shipbuilding Co, all of which were capable of manufacturing high value-added ships such as chemical tankers and vehicle carriers.
Guo Dacheng, president of the Beijing-based association, said the government will continue to cut its vast shipyard network to get industrial growth back on a healthy track this year. Excessive size hampers the industry's earning ability amid low vessel prices, irrational expansion and speculation in the shipbuilding sector.
As China's policy banks, such as China Development Bank and the Export-Import Bank of China, become more cautious in approving refund guarantees-particularly to small and medium-sized shipyards-Guo warned that unqualified shipyards should not even consider producing offshore engineering products such as oil rigs and offshore pipe-laying vessels for foreign customers.
"Small and medium-sized shipyards without orders or with a few orders will gradually withdraw from the market over the next five years," Guo said.
Chinese shipyards received orders for new vessels with a collective capacity of 23.58 dead weight tons between January and November in 2015, accounting for 28.7 percent of the global market share. South Korea's shipbuilding industry, a powerful rival of China's, held 38.8 percent of the global market share during the same period.
China has 1,600 shipbuilding-related enterprises, including 800 large shipyards, employing 1.4 million people, with an annual industrial output value of 800 billion yuan, according to the National Development and Reform Commission.