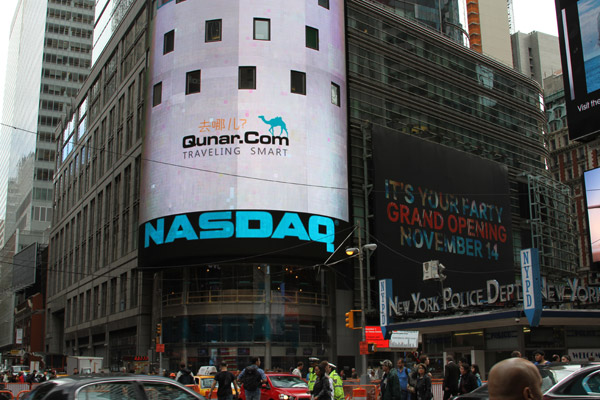 Chinese firm Qunar listed on Nasdaq in New York in November 2013. [Photo/China Daily USA]
Growing complaints about extra charges, refunds and issues related to ticketing are prompting airline companies to end ties with online travel agencies.
The latest to face the music is Qunar Cayman Islands Ltd, China's second-largest online travel agency, which saw its cooperation with China Southern Airlines, Hainan Airlines and Capital Airlines, the Beijing-based subsidiary of HNA Group, end abruptly on Dec 31, 2015.
Air China Ltd, China's flagship carrier, said on Monday it was closing its flagship store on Qunar after repeated consumer complaints about Qunar. Other carriers are also expected to take similar steps in the next few days, said industry sources.
China Southern Airlines, Asia's largest carrier in terms of fleet, said it has been piqued by the growing passenger complains about ticket purchases and refunds through Qunar.
"In order to protect passengers' interests and improve market order, China Southern Airlines is suspending its association with Qunar and the closure of its flagship store on the platform," the airline said in a statement.
Hainan Airlines and Capital Airlines also released similar statements citing passenger complaints about Qunar's extra charges and higher priced air tickets.
Qunar, when contacted for its response, confirmed the suspensions but said the issue was not about extra charges, but rather about air ticket ranking.
"China Southern and Hainan Airlines insisted that we change the order of ticket display on our website from an order by price to a chronological order. However, we think that displaying tickets by the order of their prices is more suited to the typical booking search habits of users," it said.
"Consumers can still buy the carriers' air tickets from Qunar during the suspension period," it said.
Air ticketing is a fast-developing business for Qunar, as its revenues from flight and flight related business reached 596.6 million yuan ($93.9 million) during the third quarter of 2015, a 91.2 percent year-on-year growth.