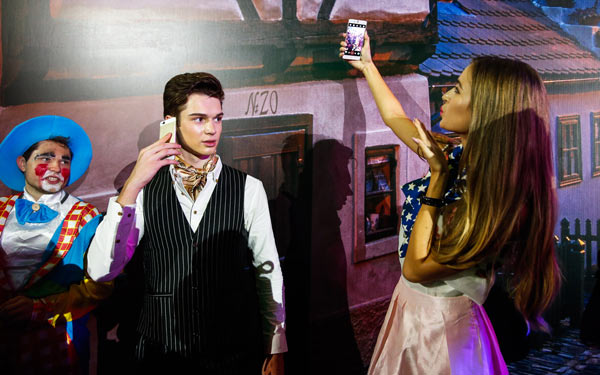 Smartphones by Nubia Technology Ltd, a subsidiary of ZTE Corp, on show at a release event in Beijing.[Photo/Provided to China Daily]
Suning Holdings Group Ltd's acquisition of a 33.33 percent stake in smartphone maker Nubia Technology Ltd, a subsidiary of ZTE Corp, is expected to drum up competition in China's crowded smartphone marketplace.
Nubia, the upmarket brand of ZTE Corp, was launched three years ago in overseas markets.
The latest deal is a clear signal that Nubia could soon make a major push into the crowded domestic smartphone market, since Suning is one of the nation's largest electronics retailers and could strongly promote the brand.
Nubia said that it was expanding its share capital by bringing in Suning Rundong, an investment unit backed by Suning, as an investor.
Following the deal, ZTE holds just 60 percent stake in Nubia. Suning holds 33.33 percent and Yingcai Investment the balance 6.67 percent.
According to the 2015 brand report published by the China Academy of Telecommunications Research, sales of high-end mobile phones or models priced more than 4,000 yuan ($610) was less than 2 percent of the 500 million domestic mobile phones sold last year.
Nubia was expected to sell 10 million phones and achieve a revenue of 6 billion yuan for 2015.
Ji Yongqing, an independent analyst, said he believes that Nubia will have a wider reach through the tie-up as it can depend on Suning's 1,600 store network to grow sales.
Nubia is also reported banking on the Suning-Alibaba Group Holding Ltd partnership to grow sales. Alibaba had invested 28.3 billion yuan in Suning last year.
Currently, Nubia phones are available in the United States, Russia, India, the Czech Republic and Spain through tie-ups with global retail giant Amazon Inc and domestic e-commerce firm JD.com Inc.
In addition to sales, Suning's investment will also consolidate Nubia's content business given that Suning subsidiary PPTV has major assets in entertainment and sports broadcasting.
It is also the first investment deal for Suning Rundong, named after Suning's founder and Chairman Zhang Jindong.
In addition, Suning has also announced plans to build 200 cinemas in five years, apart from forging content alliances with foreign and domestic film and television companies.
The Nanjing-based retailer is also propping up Suning Electronic Sports operations by building a platform that can integrate mobile phones, computers and television to enhance interactive experiences.