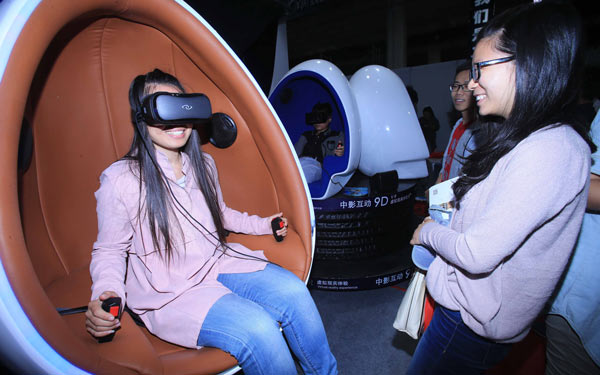 A visitor tries out virtual reality goggles at an industry expo in Beijing in October.[Photo/China Daily]
From microwave ovens to smartphones, technology firms have been attempting to profit by changing the way we live since the Industrial Revolution. And we let them win every time.
They sell us products we didn't know we needed and, after a short learning curve, many couldn't imagine living without their new electronic friends.
As the world enters 2016, idea-loaded IT companies are ready to repeat their successes all over again, bringing virtual reality goggles, artificial intelligence robots and self-driving cars out of their box of tricks.
But will they succeed this time?
After talking with a number of companies that aim to create new demand out of a long list of futuristic ideas, I'm giving my estimates on what products are going to make customers reach for their wallets, and what may face a cold shoulder in 2016.
Let's start with something easy to predict:
Virtual reality technology is going to be the hottest topic with many companies launching their first-generation products.
VR goggles work simply: They block the users' vision of the real world and shows a fake, pre-established panoramic digital environment to users' eyes, making the brain believe the body is in another place.
The technology is set to be widely used in many areas. With the help of VR, engineers will be able to perform sophisticated tasks by remotely control robotic arms in hazardous environments.
TV broadcasters will provide live sports programs so audiences on the other side of the world will feel like they are standing beside their favorite players on the field.
Companies in the video-gaming sector will be the earliest adopters of VR technologies in 2016.
HTC Corp, Nokia Corp and LeTV Holdings Co Ltd have rolled out their devices already. Tencent Holdings Ltd, one of the biggest Chinese video-gaming providers, also announced in December it will debut their goggles in the second half of 2016.
Consumers will definitely have various options for VR gadgets starting from 2016.
Big question though is: Will there be enough content available for the devices on the market? A lack of video-game users can actually play may hinder the sales of the devices.
For many, buying an artificial intelligence robot seems too futuristic. But it will be a very realistic option for your 2016 Christmas present list-if a low-IQ robot is an acceptable compromise.
A lot of companies are already putting AI into commercial use, at least they call it AI.
By the broadest definition, this is a robot that is able to learn from the environment and adjust its capabilities to suit environment change.
Microsoft Corp, Baidu Inc and Iflytek Co Ltd have delivered some products. They answer users' questions and try to learn from the users' preferences to complete the next task with higher accuracy.
Although these products are not smart enough in many aspects, more AI toys will hit the market in the next year, another cool holiday gift people can buy.
The biggest technological leap that will not get popular in 2016, however, will be self-driving cars.
It is absolutely reasonable for us to have second thoughts about this new innovation because no one wants an epitaph that reads: The first person to be killed in a self-driving car crash.
Let's make it clear that this technology is without doubt the future of the automobile industry. A hands-free driving experience is also my personal dream. But for 2016, it is still very premature.
Almost every top-tier tech companies has heavily invested in the development of self-driving technology. Let them crash enough dummies before we sit in a self-driving car.