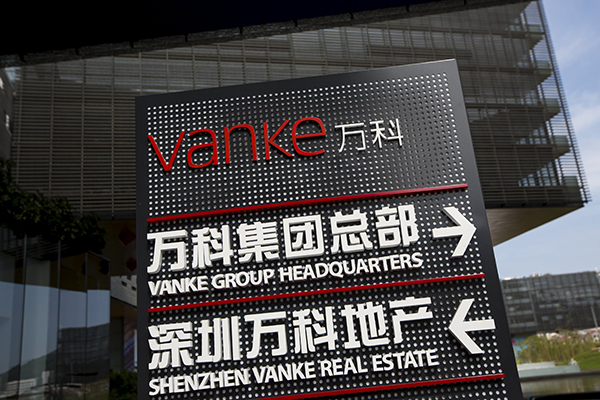 Signs show the direction of Vanke group headquarters and Shenzhen Vanke Real Estate at its headquarters in Shenzhen, South China's Guangdong province, November 2, 2015. [Photo/Agencies]
China Vanke Co, the country's largest homebuilder, announced late Monday that its asset revamp plan has been progressing as expected but it will continue to halt trading in the stock markets as uncertainty remains.
The property giant did not disclose restructuring details further, but said the company signed a non-binding agreement with a potential counterparty over possible transactions on Dec 25.
Negotiations with the counterparty, among others, is still underway, said the company.
Risks remain for investors as uncertainty of its restructuring process persists, it added, saying the company has thus decided to continue suspending its trading in the stock markets.
Vanke, which is listed in Hong Kong and Shenzhen, said in an earlier statement that it will unveil its revamp plan by January. It will also resume trading by Jan 18 if the board fails to seek a delay in the bourses.
The company has had its shares halted since Dec 18, amid a prolonged takeover tussle with Baoneng Group which has become its largest shareholder with a 24.3 percent stake, replacing State-owned China Resource Group.
Chairman Wang Shi has said that he did not welcome the hostile bid of the property and insurance group, adding the firm lacked "credibility" and would negatively impact Vanke.
The company has successfully won the backup of China's Anbang Insurance Group which raised its stake from 4.5 percent to 7.01 percent in just a few weeks, said an earlier report.
Vanke's December contract sales stood at 33.2 billion yuan ($5.08 billion), bringing its total sales to 261.5 billion yuan in 2015, according to Reuters.
It bought back 12.5 million A-shares for 160.1 million yuan as of Dec 31.