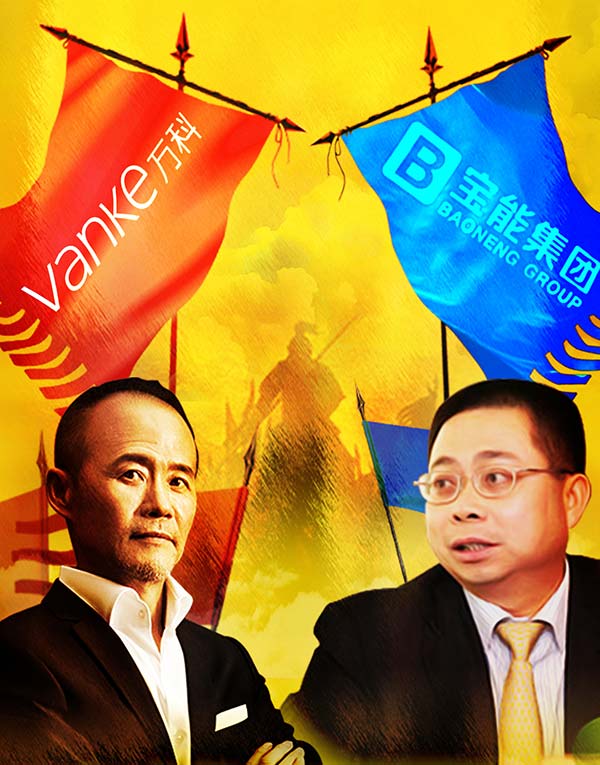 Wang Shi, chairman of China Vanke Co Ltd and Yao Zhenhua, head of Baoneng Group. [Liu Lunan / China Daily]

Battle builds up as Shenzhen company becomes developer's biggest stakeholder
The confrontation between China Vanke Co Ltd, the country's largest residential developer, and its largest shareholder Baoneng Group escalated on Monday after news reports suggested that Vanke may have sought government support to resolve the crisis.
In what Vanke called a "hostile takeover bid", Baoneng, a relatively unknown and much smaller Shenzhen-based private conglomerate, gained sudden prominence after it became the developer's largest shareholder by purchasing 22.45 percent of Vanke's shares on the public market through its affiliates.
The incident sparked a great deal of public attention as it is an unprecedented event in the Chinese market for such a large developer to have been targeted by a smaller and low-profile private group that has managed to leverage massive capital estimated at 40 billion yuan ($6.17 billion) to bid for the former's stake.
Vanke Chairman Wang Shi said the company did not welcome Baoneng's move as he said it will harm Vanke's reputation and credibility. Baoneng responded by saying that it is a law-abiding firm and it believes in the "power of the market".
Chinese business magazine Caixin on Monday cited sources close to the matter as saying that Vanke has gained support from the State-owned asset regulator and major investment banks including Goldman Sachs Group Inc for its restructuring plan, a move which is possibly aimed at diluting Baoneng's ownership.
Both the State-owned Assets Supervision and Administration Commission and Goldman Sachs declined to comment on the matter when contacted by China Daily.
Vanke's previous largest shareholder-State-owned conglomerate China Resources Co Ltd, which owns about 15 percent of the developer's shares, has not publicly responded to media inquiries.
It is understood that Vanke will likely seek support from China Resources by issuing additional shares through private placement and allowing the State-owned group to inject its property assets into Vanke to dilute Baoneng's stake.
"One likely option for Vanke is to sell shares in Hong Kong, as its H shares are traded at a discount to its A shares. And by expanding its share base and market value, it could substantially reduce the stake held by existing shareholders to avoid a takeover," said Xie Haoyu, a property analyst at Huatai Securities Co.
Zhang Jie, a professor at the capital research center of China University of Political Science and Law, said that the bidding war between Vanke and Baoneng is a milestone in the Chinese capital market and could serve as a wake-up call for listed companies that lack experience in dealing with hostile takeovers.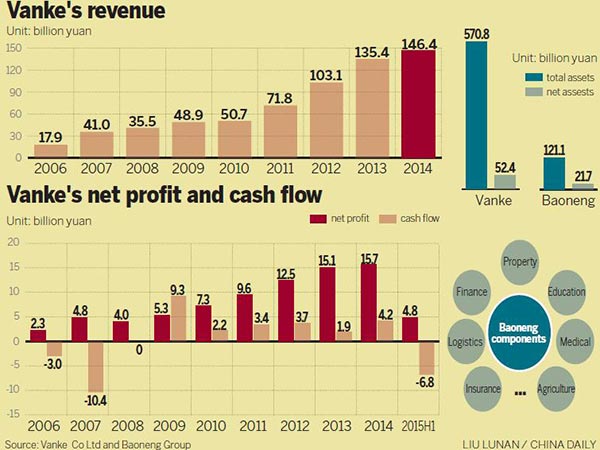 Three most likely outcomes
・ Vanke issues additional shares through private placement for asset injection from China Resources to dilute Baoneng's ownership.
・ Vanke asks for support from institutional investors and friendly companies to buy its shares on the public market to prevent Baoneng from becoming the largest shareholder.
・ Baoneng boosts its holdings in Vanke to more than 30 percent and becomes the controlling shareholder. Vanke's current management will face the risk of being removed by Baoneng.