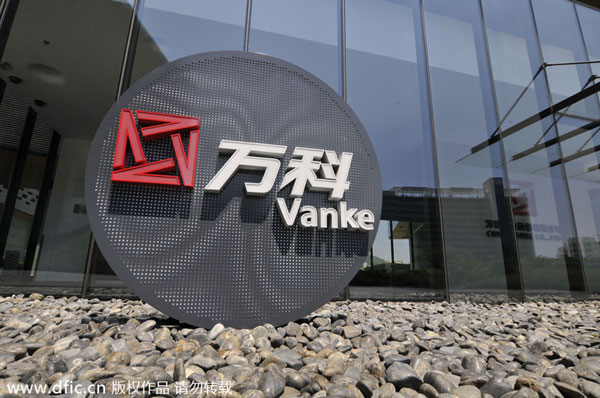 View of the headquarters of China Vanke Co Ltd in Shenzhen city, South China's Guangdong province. [Photo/IC]
BEIJING - China Vanke Co Ltd unexpectedly suspended trading on Friday afternoon, saying that it's planning to issue new shares for capital restructuring and assets acquisition, according to a statement on the Shenzhen Stock Exchange.
The statement came after Vanke's chairman Wang Shi openly opposed the Baoneng Group's acquisition of shares that would make them being the company's biggest shareholder. Experts have speculated that the suspension may be Vanke's strategy to deter the investor.
Baoneng Group, a Shenzhen-based conglomerate with real estate and finance businesses, overtook State-owned China Resources to become Vanke's largest shareholder, which deeply worried Wang.
"Our management does not welcome Baoneng as our biggest shareholder," said Wang in an internal meeting on Thursday. "The reason is simple, it just doesn't have enough credit."
Wang is concerned that Vanke's credit score will be lowered by Baoneng Group, thus adding to the company's borrowing cost.p A regulatory filing showed that Jushenghua, an affiliate of Baoneng Group, borrowed twice the amount of its cash to buy a stake in Vanke.
"If the snowball keeps rolling, it will be just like what happened after the leverage buyout boom in the 1980s in the United States," said Wang, raising doubts on the Baoneng Group's aggressive bet. "The consequences are just unimaginable."
In response, Baoneng said in a statement on Friday that the group has always abided by the law and has a good reputation in the market.
Vanke's share price rose by the daily limit of 10 percent on Friday morning before it announced the suspension. The stock registered a 62-percent increase since the beginning of this month partly thanks to Baoneng's investment.
Analysts speculated Vanke's sudden move may mean the company employing a "poison pill" strategy, a plan used by corporations to discourage hostile takeovers by offering new shares at a discount to all shareholders except the target, thus diluting the stake owned by the buyer.
If Vanke's suspension is designed to deter Baoneng, allowing the company's other big shareholders such as China Resources may buy new shares at half of the market price and reclaim the title of majority shareholder.