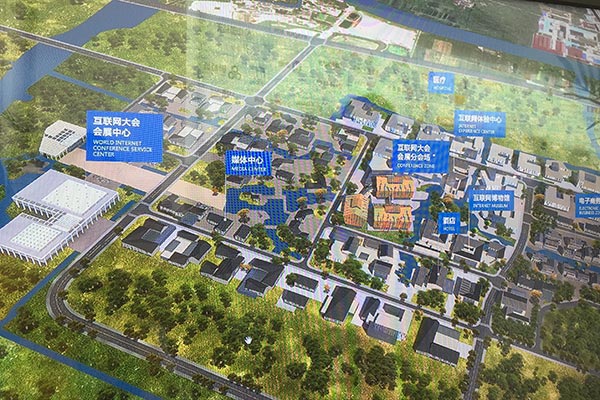 The plan of Wuzhen is displayed on an interactive screen at the Light of the Internet Expo during the 2015 World Internet Conference, Dec 17, 2015.[[Photo by Dai Tian/chinadaily.com.cn]
F or the river town of Wuzhen's administrators, access to real-time information ranging from tourist congestion, utility supplies to air and water quality is a tap away on a screen.
The City Information Modeling (CIM), serving as the operating platform for city construction, will become the core behind a smarter Wuzhen, said Yuan Xin, dean of Beijing Tsinghua Tongheng Urban Planning & Design Institute (THUPDI), which co-developed the system with its brother company.
Displayed in 3D, the CIM contains a massive amount of data including detailed information of each building and street as well as real-time air and water quality.
"Digitalization at each stage will ensure a complete data and industry chain, and therefore guarantee the maximization of efficiency," said Yuan.
Wuzhen is a historic water town, and installing a system that can monitor real-time water quality and self-adjust it is crucial, said the urban planner.
The planning of Wuzhen is also characterized by its mobile interaction system with local citizens, said Ouyang Peng, chief engineer of THUPDI's Master Planning Research Center. Residents and tourists can leave GPS-marked comments while reading the response made by others on a mobile planning map on the township's official WeChat account.