Editor's note: The second World Internet Conference, also known as the Wuzhen Summit, is taking place in Wuzhen, Zhejiang province. China Daily reporters interviewed a group of senior information technology business executives to learn their views.
Q1. What role is the Internet likely to play in China's next Five-Year Plan (2016-20) during the economy's new normal phase of slower, more sustained growth?
Q2. China aims to become a world leader in Internet technology. In what spheres do you think the country is particularly well placed to achieve this goal? What skills that China excels in do you think could be exploited to this end? What is the biggest hurdle that stands in the way of China achieving its goal?
Q3. Which particular industry do you think is going to be "shaken" by the Internet, or which area do you find the most promising to apply the government action plan of Internet Plus?
Q4. In China's Internet sector are there any areas (such as cross-border e-commerce, video or gaming) that you expect to do particularly well in the coming years?
Q5. If you were to give an Internet startup just one piece of advice, what would it be?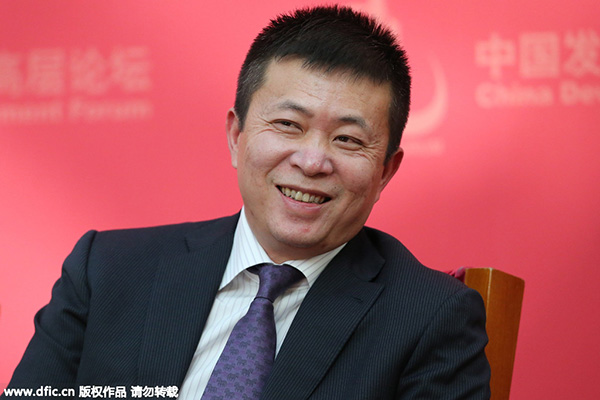 Charles Chao, CEO and chairman of the board of Sina Corp, China's online media company. [Photo/IC]
A1
We are aware that, in recent years, China's economic growth is going through a transition to be more innovation-driven, which largely depends on the Internet as an infrastructure to improve the operational efficiency of the entire society. Among the five fundamental concepts of the new Five-Year Plan, three of them, namely, innovation, openness, and sharing, fit perfectly in with the nature of the Internet. So there's no doubt that the Internet is playing a much more important role, however it doesn't mean the Internet companies are going to play the role by themselves. It is more about applying Internet technology to improve and upgrade traditional industries and to create a brand new business ecosystem.
A2 In the era of mobile Internet, China has been developing very fast in the Internet technology area and has demonstrated its strength especially in terms of applications. There is one particular advantage China has, which is the large base of the Internet population. Scale can largely decide the sophistication of technology. For example, on New Year's Eve, Weibo handles tens of thousands of posts in one second. Very likely, we are going to see quite a number of breakthroughs in mobile Internet technology take place in China due to its giant user base with massive requests.
A3 The Internet reshapes traditional industries by improving efficiency with data and information. In theory, industries that are less dependent on logistic systems or providing non-physical products, and industries in which one party has more or better information than others are the ones that have the most potential to be redefined by Internet Plus. The Internet provides possibilities for many innovations like online financing, electronic payment, crowd funding and crowd sourcing.
A4 The so-called sharing economy will continue to thrive because it is much more than hailing a car or renting an apartment from those who have idle assets. Any areas that can match demand with supply can adopt this model. And in the era of the mobile Internet, we think the other promising business is mobile video. We've witnessed an explosive development of short videos. Daily video views on Weibo in September this year surged 9.7 times compared with the same period last year. I think the growth of short videos will continue to be strong in the coming year.
A5 Start up a business based on the Internet, not necessarily an Internet startup. Start from something small and set up rational goals rather than ambitious goals. Learn as much as possible while you operate your own business and never be afraid of failing.