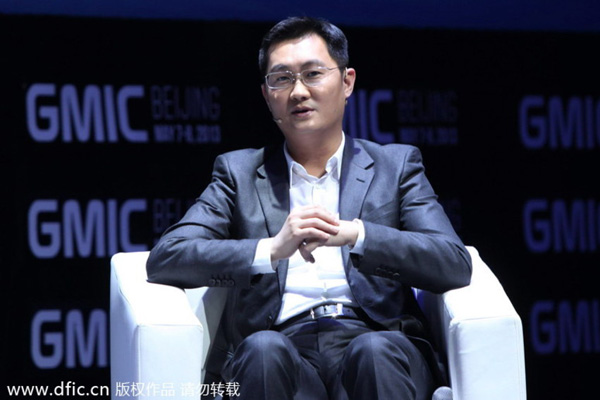 Ma Huateng, also known as Pony Ma, founder and CEO of Tencent, speaks during the Global Mobile Internet Conference in Beijing, May 7, 2013. [Photo/IC]
Ma Huateng, core founder and chief executive officer of Tencent Holdings Ltd, spoke to China Daily prior to the World Internet Conference in Wuzhen.
1. What are your expectations for this year's Wuzhen Summit?
Ma: I hope to have more discussions with global peers on how to further boost the Internet industry and explore areas where we can take more responsibilities by providing technologies, products and services.
2. What is necessary for the further growth of China's Internet industry?
Ma: The industry has enjoyed rapid growth due to the large population of Internet users in the country. The upgrade and transformation of traditional enterprises and the passion for young entrepreneurs is another important growth factor. That said, there is still enough room for innovation. The Internet can help unlock the full potential of public services, such as healthcare and education. It can also boost efficiency, improve the quality of services and lower costs.
3. What role is the Internet likely to play in China's next Five-Year Plan (2016-20)?
Ma: The Internet is a hyper competitive industry. The breakthrough of technologies and the rapidly changing preferences of users will push Internet companies to innovate every day. We need to provide users better but cheaper products and services, constantly improving the quality of people's lives.