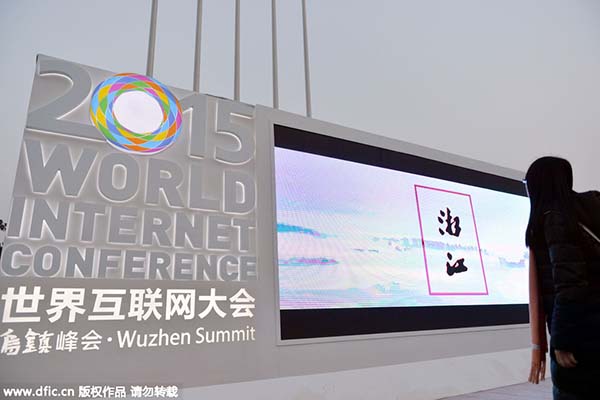 A big electronic screen displays some information about Zhejiang province in Wuzhen, Dec 12, 2015. [Photo/IC]
The Second World Internet Conference (WIC) will be held in the river town of Wuzhen in East China's Zhejiang province on Dec 16-18. The number of attendees will be more than two thousand, half of whom will be foreign guests from over 120 countries and regions.
The host country, which has the world's largest 4G network and is soon expected to be the leader in 5G with largest group of Internet users of 668 million, may have the qualification to play a bigger role in the world of Internet community. China also has about 20,900 websites providing education, health care and other professional Internet information services. Four out of the world's top 10 Internet companies are from China, namely Alibaba, Tencent, Baidu and JD.com, with the other six all from the United States.
Though the foreign representatives include prime ministers of several neighboring countries, UN senior officials, some big Internet companies such as Apple, Microsoft and Nokia, there is still space to improve the representation.
Discussions may be raised towards China's prudent regulations on Internet. But China, with the largest population, unique system and special development scenarios, would reasonably have its own strategic interests and own laws for foreign firms that want to enter China to consider or abide by.
A stabilized China is in line with global interests, which is especially true comparing China's security, prosperity and vibrancy with chaos in some places around the world. Considering that the Internet can be an amplifier of those who speak more or speak louder but not more correct or better, China's prudent regulations are not without wisdom. It is especially true in such a country whose development is not well balanced in different provinces and groups in its particular stage of development.
Tortured by wars and social unrest for about a century, Chinese people cherish the hard-won stabilization epoch and want to use such a window of strategic opportunity to solve challengeable social and economic problems and any distraction can be regarded as annoying or even unbearable. Such feelings are difficult to understand for people who stay in rich society.
Just as freedom is not totally free, the Internet is a tool that can either do good or bad. While China may seem to be too prudent in preventing the Internet's bad effect, its attitude to let it do good is obvious.
With President Xi Jinping expected to attend this year's WIC, which makes the industry conference somewhat special. It shows the determination of the government to support the society in benefiting from Internet. As Internet is essentially pluralistic and open, China is actually on its way to a more open society.
Though the government's "Internet Plus" strategy, which encourages applying Internet to any other industry, seems ambitious, the truth is that China has to rely more on Internet.