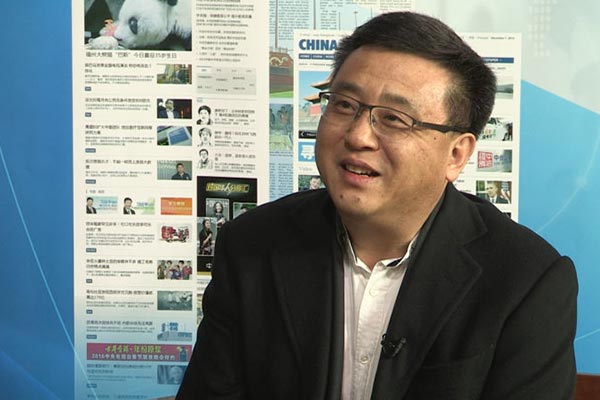 Zhang Yaqin, president of the country's largest Internet search company Baidu.[Provided to chinadaily.com.cn]
Baidu is reinventing itself from a search engine to interconnecting the real world, said Zhang Yaqin, president of the country's largest Internet search company.
The online-to-offline (O2O) businesses linking users with brick-and-mortar services will serve as new Baidu's engine and the company will continue to invest while giving them time to grow profitable, said Zhang.
"In the past, our focus has been searching the right information for users anywhere. In the future, we want to interconnect the real world, connecting people to services," said Zhang to China Daily at the World Internet Conference in Wuzhen, Zhejiang province, on Wednesday.
Despite robust core search business, the Internet giant has been betting big on the O2O sector, with billions of dollars spent on buying startups ranging from group-buying site Nuomi, online travel agency Qunar to on-demand laundry service edaixi and boutique e-commerce mia.com.
Describing the journey as a "very exciting" one, Zhang said Baidu aims to create a platform catering to all dimensions of location-based lifestyle, where consumers can buy movie tickets, order food delivery and book rides as well as flight tickets.
"The O2O market is much bigger than the online search market," said Zhang, adding that despite the cash-burning competition to snatch customers, edge in technology willfinally enable Baidu to "laugh last".
The O2O sector has everything to do with algorithm and mathematics which is the key for the business to sustain and become profitable, said the president. "It just takes some time and patience."
Baidu reported a 36 percent year-on-year fall in the third-quarter operating profit despite a jump in revenue, due to the rapid growth of its heavily invested O2O. Its American depository shares slid 12.7 percentsince the beginning of this year as of Wednesday.
Zhang said the huge opportunity in China's O2O may not be well understood in the US, as the two countries are different in the segment. "In China, because of its demographics, cost structure, and population density, you can leverage a lot, and the infrastructure and technology will help us."
"That's a huge opportunity here in China, and that is the profit in the future," the veteran concluded. Prior to joining Baidu since September 2014, Zhang Yaqin was Microsoft's corporate vice-president and chairman of Microsoft's Asia R&D Group, its biggest research center outside the US.