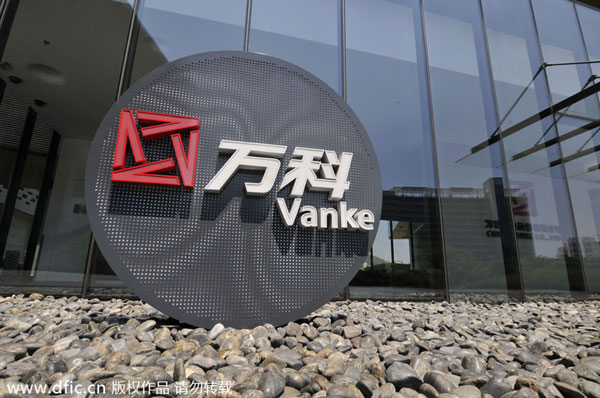 View of the headquarters of China Vanke Co Ltd in Shenzhen city, South China's Guangdong province. [Photo/IC]
Real estate giant China Vanke Co Ltd has entered the United Kingdom commercial realty sector after buying a 20 percent stake in a London property development project.
According to Estates Gazette, a weekly magazine on commercial property sector in the UK, Vanke has acquired the stake in the 750-million-pound ($1.16 billion) The Stage development project in Shoreditch, an area that is extremely popular with several London-based Web technology companies.
Vanke has spent more than 30 million pounds acquiring the stake from the former equity holders-Cain Hoy Enterprises, McCourt Global, Galliard Homes and Investec Structured Property Finance.
The Stage project, in the north of London, comprises a 40-story tower with 385 apartments, and was home to the Curtain Theatre back in the 16th century. The Curtain Theatre was the first stage that performed William Shakespeare's Romeo and Juliet and Henry V. The project will include a new tourist attraction celebrating William Shakespeare.
Vanke's UK interests can be traced back to the beginning of the year, when the Shenzhen-based developer hired Lily Lin, a top executive from UBS AG, to head its operations in the UK. Since then it has been targeting mixed-use and residential development opportunities in central London, the Estates Gazette said.
Vanke is among several Chinese developers that are diversifying their assets through overseas purchases and has been actively testing the waters in cities like London and New York.
"We have seen an escalation in the deal volumes and the total considerations of Chinese companies in overseas markets in recent years," said James Macdonald, head of Savills Research China.
Confirmed deals in the year to date have already exceeded that of last year to $15.2 billion, as Chinese investors gain greater experience and deeper understanding of overseas markets.
In February 2013, Vanke said it was joining hands with global property firm Tishman Speyer Properties to develop luxury residential projects in San Francisco.
Last year, the company teamed up with US developers RFR Holdings LLC and Hines to develop a high-end residential building in New York, according to Forbes magazine.
Although the largest residential developer in China by sales, Vanke is less competitive in terms of developing projects abroad, according to Song Huiyong, a research director at Shanghai Centaline Property Consultants.