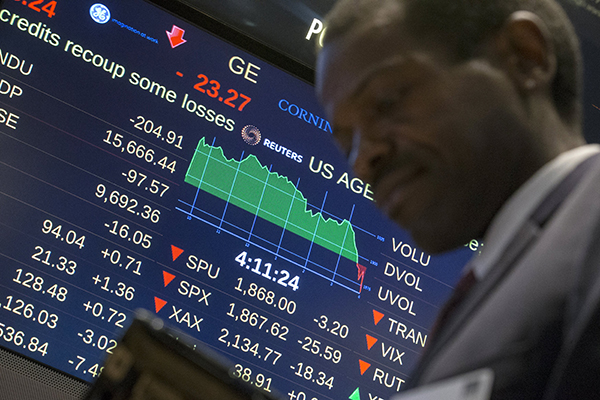 A screen displays the Dow Jones Industrial Average as a trader passes by on the floor after the closing bell at the New York Stock Exchange August 25, 2015. [Photo/Agencies]
US-traded Chinese stocks would have wanted a better start of the year, as shares edged down on Monday in part dragged by the slump in their home market.
JD.com, China's second-biggest online retailer, plunged by a record 8.5 percent to $29.53, while Alibaba Group Holding fell 5.6 percent to $76.69. Other boutique ecommerce platform Vipshop Holdings and Jumei International Holding tumbled 8 and 5.2 percent respectively.
China's travel booking site Qunar Cayman Islands Ltd sank 16.7 percent to $43.96 per American depositary receipt on Monday, after founder Chenchao Zhuang left his position as chief executive officer and more airline companies cut ties with the company.
Selling in A-share market has sparked concerns overseas. A Bloomberg gauge of the most-traded Chinese companies listed in the US sank 4.6 percent, also the most since August, according to the news agency.
Trading in mainland on the first day of the year closed earlier than expected, as a 7 percent slump of Shanghai- and Shenzhen-listed blue chips triggered circuit breaker mechanism. The benchmark Shanghai Composite closed at 3,296.26, down 6.9 percent, while the Shenzhen Component Index halted at 11,626.04, down 8.2 percent on Monday.
Market analysts attributed the plunge in part to China's lower-than-expected manufacturing activity.
The Caixin General China Manufacturing Purchasing Managers' Index (PMI), an indicator of manufacturing activity, edged down to 48.2 in December from 48.6 in November, according to the latest survey conducted by financial information service provider Markit.
Starting from this year, trading of mainland stocks, index futures and options will be suspended for 15 minutes when the CSI 300, which tracks some of the largest-cap stocks in Shanghai and Shenzhen, fluctuates by 5 percent. Trading will be halted for the remainder of the day when the index moves by 5 percent after 2:45 pm or 7 percent at any time during the trading session.
The circuit-breaker mechanism aims to check abnormal price swings.
The S&P 500 edged down 1.5 percent to 2,012.66 as of Monday closing, while the Dow Jones Industrial Average lost 1.6 percent, to 17,148.94. The Nasdaq Composite Index fell 2.1 percent