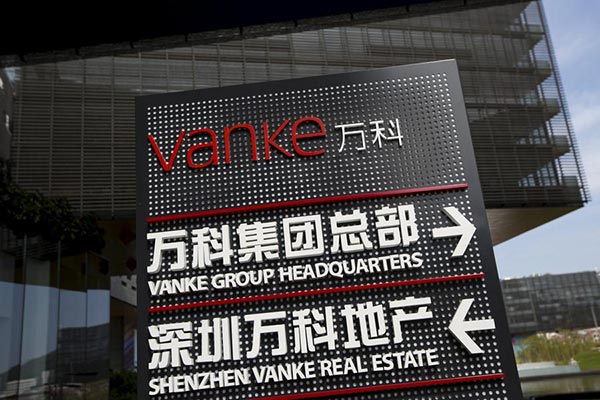 Signs show the direction of Vanke group headquarters and Shenzhen Vanke Real Estate at its headquarters in Shenzhen, South China's Guangdong province, November 2, 2015.[Photo/Agencies]
China Vanke Co, the country's biggest developer, said on its website on late Wednesday that it welcomed Anbang Insurance Group Co as an ally after the insurer boosted its stake in the company.
The company said in the statement that it had conducted highly effective communications with Anbang after the insurance group raised its shareholdings.
It also said Vanke needs insurance capital support amid its transformation and is willing to explore more global investment opportunities with Anbang as a "respectful and experienced" overseas investor.
Meanwhile, Anbang in a separate statement said it will "actively" support Vanke's development and would like to see stability in the company's management.
The insurance giant has raised its stake in Vanke to 7.01 percent by acquiring shares worth 2.84 billion yuan ($438.42 million) in two consecutive days, according to disclosure filings on the Hong Kong stock exchange on Tuesday.
It bought 105.4 million shares at an average price of 21.808 yuan each on Dec 17, lifting its stake to 6.78 percent from 5.69 percent. It then acquired another 22.9 million shares at 23.551 yuan apiece the next day, boosting its holdings to 7.01 percent.
Anbang's share acquisition also comes days after a war of words between Vanke's Chairman Wang Shi and its biggest shareholder - property and insurance group Shenzhen Jushenghua Co - over control of the property developer.
The sudden move of Shenzhen Jushenghua, backed by the obscure Baoneng Group which purchased 22.45 percent of Vanke's shares, was called by Vanke as a "hostile takeover bid".
Agencies contributed to this story.