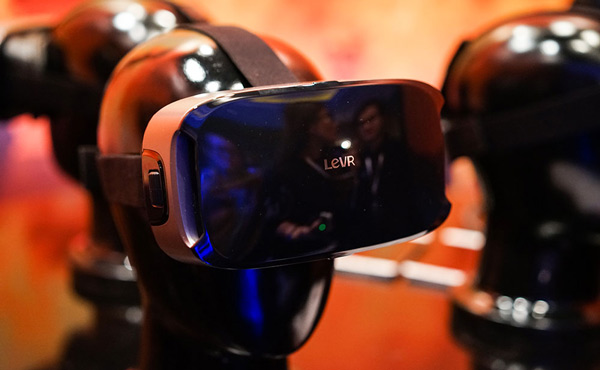 Le Cool 1, LeTV's first virtual reality(VR) headset, is displayed during the product's launch ceremony held on December 23, 2015 in Beijing. [Photo/Provided to chinadaily.com.cn]
Chinese online video provider LeTV Holdings Co Ltd launched its first ever virtual reality (VR) headset on Wednesday, as it believes the market potential will be stimulated as big as the country's flourishing smartphone sector.
Virtual reality, also known as computer-simulated life, first appeared in science fiction in the 1950s, and was developed for medical use, pilot simulation and military training in the 90s.
The industry really began capturing the public's imagination last year with the launch of the American virtual reality technology company Oculus VR's Rift headset, considered the first truly immersive VR headgear to be used with video games.
"Few companies will fully handle VR business as selling the product requires premium hardware design, powerful cloud computing support and fruitful content," said Ablikim Ablimit, vice-president of strategy management at LeTV. "Thanks to LeTV's Internet ecosystem, the company will drive the trend of VR device mass production in the consumer market."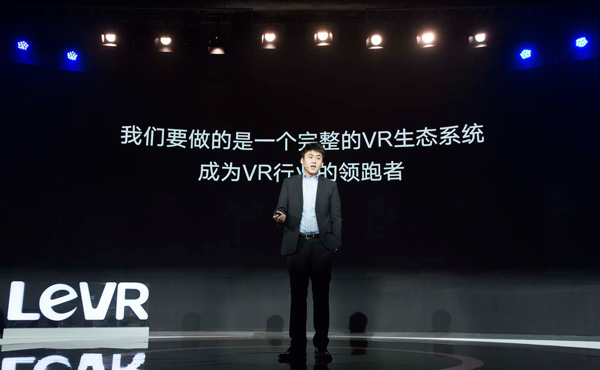 Li Dai, head of LeVR, LeTV's subsidiary company that focus on virtual reality business, delivers keynote speech during the launch ceremony of the firm's first virtual reality(VR) headset held on December 23, 2015 in Beijing.[Photo/Provided to chinadaily.com.cn]
According to LeTV, it will focus on integrating the industry's resources and benefiting all the partners who work on its LeVR platform.
The company said it is also working to bring VR movies, video games, education and sports broadcasting services to its users in the coming years.
During the event, a strategic cooperation agreement has also been signed between LeVR technology Ltd and Chinese new industrial city operator CFLD in building a technology development zone at DachangChaobai River Development Area, which is located 30 km East of Beijing's Central Business District.
No specific volume of the investment was revealed at the product launch event.
Currently, there are two types of VR headsets sold on market -- Mobile base VR and all-in-one VR. The former needs a smartphone to insert in front of the device as a display while the latter requires a PC or game console to support it.
"The mobile VR headset and all-in-one VR headset are different in terms of functions, so they are designed for two separate consumer markets," said Wang Jingyi, Analyst of interactive entertainment division of iResearch Group.
According to Wang, the difference in the customer market between the two types of VR headsets will imply that the mobile VR headset will gather a wider range of users. However, the ideal product for a VR headset is a real all-in-one device, without support from external accessories such as smartphones or computers and one that operates its display and data processing.