Virtual reality, or VR, also known as computer-simulated life, first appeared in science fiction in the 1950s, and was developed for medical use, pilot simulation and military training in the 90s.
The industry really began capturing the public's imagination last year with the launch of the American virtual reality technology company Oculus VR's Rift headset, considered the first truly immersive VR headgear to be used with video games.
According to BI Intelligence, a research and information service provider by American technology website Business Insider, the compound average growth rate of the VR hardware market is expected to be 99 percent from 2015 to 2020.
It also predicts that the VR hardware market will hit $2.8 billion by 2020, while its revenue for last year was just $37 million.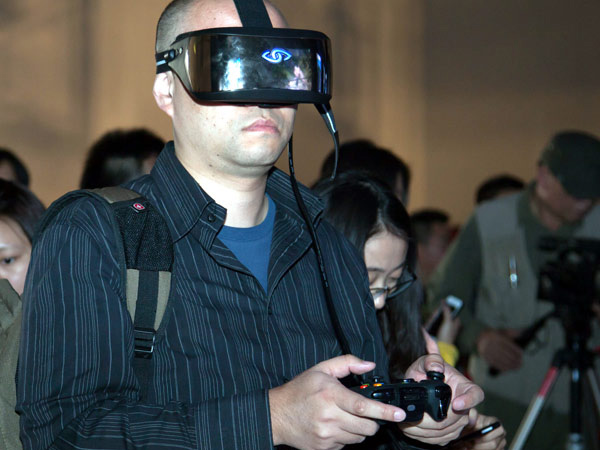 A visitor plays with the Three Glasses, a virtual reality helmet, at a press conference on Oct 24, 2014 in Beijing.[Photo provided to chinadaily.com.cn]
China's VR market has only really taken off, however, since Facebook agreed to buy Oculus for $2 billion in cash and stock in March last year.
Although most VR headgear is still produced by multinationals such as Oculus and Sony -- which produces the Project Morpheus VR headset -- the devices are yet to be put into what would be considered mass production, leaving a gap for some Oculus-like Chinese-manufactured products to enter the domestic market so far.
"In 1995, Chinese started to pay attention to the VR industry. However, most of the R&D is focusing on B2B sectors, or applies to professional projects within the industrial field," said Weng Dongdong, an associate professor at the Center for Research on Optoelectronics, Information Technology and Color Engineering at the Beijing Institute of Technology.
There are at least eight competitive VR gadgets, such as 3Glasses, Antvr kit, Baofeng magic mirror and DëePoon that have been revealed to the public, according to Chinese media reports.
Baofeng Mojing, or Baofeng magic mirror, for instance, is an entry-level VR set produced by Beijing-based Baofeng Technology Co Ltd, which has already sold more than 300,000 units since its first generation debuted in September 2014.
Currently, there are two types of VR headsets sold on market -- Mobile base VR and all-in-one VR. The former needs a smartphone to insert in front of the device as a display while the latter requires a PC or game console to support it.
"The mobile VR headset and all-in-one VR headset are different in terms of their functions, so they are designed for two separately consumer markets," said Wang Jingyi, Analyst of interactive entertainment division of iResearch Group.
Animation: Liu Zheng
Voiceover: Anne Marie Ruisi