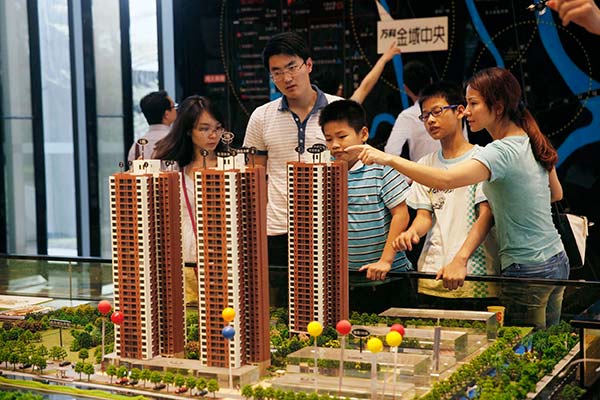 Visitors check a Vanke property project model at a realty expo in Taiyuan, capital of Shanxi province.[Provided to China Daily]
Property giant says unidentified ally to help in tussle with largest shareholder
China Vanke Co Ltd, the country's largest listed homebuilder by market value, said on Tuesday it had found a potential investor, and is in talks with others, as it wages a struggle for control against its largest shareholder.
The company said in a statement to the Hong Kong Stock Exchange that it signed a letter of intent on Friday to buy unspecified assets from a potential investor by issuing new shares and using cash.
The price will be decided after due diligence, and the transaction may not be completed, the Shenzhen-based company said. It did not say how many shares it will issue or to whom, nor what assets it plans to buy.
The letter of intent will terminate if the two sides fail to reach a written agreement on the transaction by June 30 2016, according to the statement. It said that as Vanke's plan for major asset restructuring is complicated, the developer is also in talks with other parties besides the previously mentioned company. The acquisition will be made with either Vanke's shares traded in Hong Kong or Shenzhen and in cash.
The company's shares are still suspended from trading to avoid abnormal share price volatility in a bid to protect investors' interests.
Vanke President Yu Liang said earlier this month that it faces a "hostile takeover" from Baoneng Group, which became its biggest shareholder after increasing holdings.
Later on, insurance giant Anbang Insurance Group Co raised its stake in Vanke to 7.01 percent by acquiring shares in two consecutive days last week.
Vanke said in a statement after Anbang's move that it welcomes Anbang as an important shareholder. Anbang, in a separate statement, said it will actively support Vanke's development and that would like to see stability in the company's management.
Shenzhen Jushenghua Co and fellow Baoneng unit Foresea Life Insurance Co boosted their combined Vanke stake to 24.3 percent as of Thursday, according to a Sunday filing.
Alan Jin, a Hong Kong-based real estate analyst at Mizuho Securities Asia Ltd, said: "The main purpose (of buying the assets) should still be to dilute Baoneng."
Bloomberg contributed to the story.