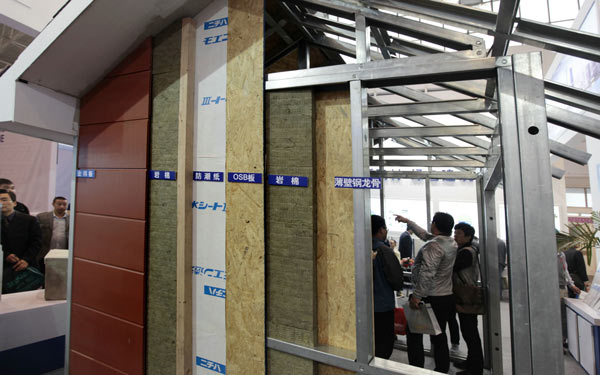 Model of an earthquake-resistant house built by Beijing New Building Materials Public Co Ltd. The country's biggest plasterboard maker is calling for more compulsory use of green building products to reduce air pollution.[Photo/China Daily]
Plasterboard firm says ending use of clay bricks will help reduce pollution, carbon emissions
The country's biggest plasterboard maker, which manufactures using waste materials, is calling for more compulsory use of green building products to reduce air pollution.
Guan Li, assistant general manager of Beijing New Building Materials Public Co Ltd, said China's property construction industry and its many related activities remain high-energy consumers, but if left unsupervised will continue to cause untold damage on the environment.
He explained the problem is two-fold: many production processes remain outdated, while older buildings are made of materials which do not break down easily after they fall into disrepair, such as cement.
"But environmentally friendly buildings, made using modern materials such as plasterboard will have no such problem," he said.
BNBM was founded in 1979 and is now considered China's largest domestic manufacturer of plasterboard and other building products.
Guan said to be considered truly green, a product has to meet strict environmental criteria throughout its entire life-cycle, from raw material, through to production, to transportation, its use in construction, and recycling.
BNBM's main product line is multi-layered wall structures designed to replace conventional clay bricks, which are produced using recycled waste materials from high-polluting industries, including industrial by-product gypsum and coal ash from power plants, and cinder from furnace shafts of steel smelters.
Of the company's current annual output of 2 billion square meters of material, it re-uses 20 million tons of desulfurized gypsum which officials claim reduces its sulfur dioxide emissions by 7.52 million tons, carbon emissions by 3.64 million tons, and its landfill use by some 20.2 square kilometers.
According to Guan, conventional clay bricks, used widely across China for many years, seriously pollute the environment. "Thirty years ago, China produced 600 billion solid clay bricks every year. Now, although the proportion of their use overall has dropped, the number is still 850 billion.
"A lot of villages have brick kilns that have become a major source of smog.
"So more multi-layered wall structures such as the ones our company produces must be widely used to replace those older clay bricks," he said.
According to a report from the China Association of Circular Economy, building construction accounts for 15 percent of the country's total consumption of resources.
The association, with members including government officials, academicians and entrepreneurs, promotes the idea of recycling in daily practice, and contributing to the nation's efforts to develop the green economy.
The extensive use of solid clay bricks, in particular, it said still results in the disappearance of more than 66.7 million square meters of arable land every year.
"The government has been discouraging the use of solid clay bricks in favor of more sustainable wall materials," said the report.
"By the end of 2010, more than 600 cities in China have completely banned solid bricks in the urban areas. At the same time, recyclable materials accounted for 55 percent of all wall materials installed in China, increasing from 28 percent in 2000."
Guan said the figures show that the industry is becoming more accepting of green materials and that the government was paying more attention to the issue, but he said more measures need to be taken to reduce the use of such older materials.
"Consumers are increasing their demands for their living environment. And more importantly, real estate developers also have a growing awareness of quality as well as environmental protection," said Guan.
According to a report by bmlink.com, a Chinese building materials sales website, the government is likely to put more emphasis on green building materials in the 13th Five Year Plan (2016-20).
"More walls will be built from panels of larger sizes, made of poly-composite materials," said the report.
"In developed countries, panel walls began to gain popularity in the 1990s to a point they now take up 70 percent of total wall space.
"The construction efficiency of panel walls is much higher than brick walls. Plus, manufacturers are being encouraged to use more solid waste such as coal ash, recycled aggregate and desulfurization gypsum in their production."