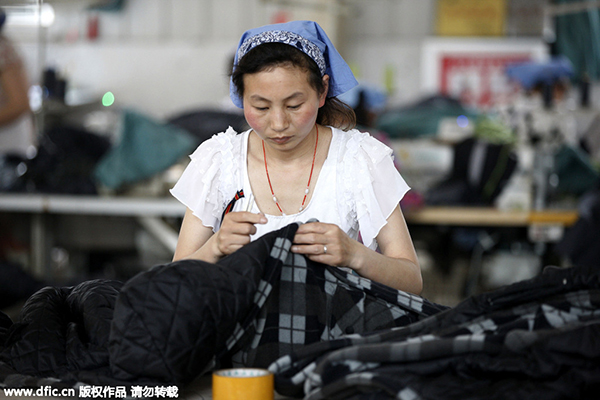 A female Chinese worker sews clothes at a garment factory in Huaibei city, East China's Anhui province, June 1, 2015. [Photo/IC]
The year 2016 is the first year of the 13th Five-year Plan. On the whole, the economic situation is quite grim, but is expected to see the end of the downward trend and gradually become stable as new momentum emerges. Macro-control is expected to focus on boosting supply and demand, reform and opening-up, mass innovation, as well as fiscal and monetary policies.
Chinese economy still has huge room for development at a medium-to-long term. It is crucial to push forward the reform and opening-up and accelerate the innovation-driven transformation, nurturing new growth points to bolster the country's international competitiveness, optimize the economic structure and improve people's livelihood.
New growth momentum emerging
The country's economy has been faced with pressures from economic slowdown, structural adjustments, and hang-over of previous stimulus since 2012, triggering a downward trend that has persisted for 11 consecutive quarters. The inertia will inevitably weigh on the economy to some extent in 2016.
There are some positive signs, however. China has been accelerating economic restructuring and industrial upgrading, and pushing forward new industrialization, information technologies, urbanization and agricultural modernization, which will unleash huge potential for demand and supply.
New growth momentum is breeding as the country has been carrying out the new-type urbanization plan, speeding up newly emerged industries, encouraging mass entrepreneurship and innovation, and deepening reforms and opening-up that will release more dividends.
Meanwhile, the job market is stable, the property sector faces eased downward pressure, the infrastructure investment accelerates, and accumulative effects and composite force of policies and measures to stabilize growth are emerging. In addition, the decrease of corporate management costs helps accelerate the pace of market adaptation.
In particular, the fifth plenary session of the 18th CPC Central Committee has drawn an economic and social development blueprint for the next five years, which set new goals and pointed out the concept of development as well as major measures expected to enhance the market confidence and stimulate the social vitality.
Above said, China's economy still has the potential to maintain medium-to-high level of growth. It can be predictable that GDP growth will stabilize and be likely to achieve a rate of 6.7 percent for the whole year in 2016.
On the supply side, mass entrepreneurship and innovation will drive the development of the new-type manufacturing and service industries as a new growth momentum. Innovative development comes first and foremost in the 13th Five-Year Plan (2016-20). In the service sector, for instance, enterprises are increasingly taking innovation as their core competence, showing strong vitality by adopting Internet technologies.