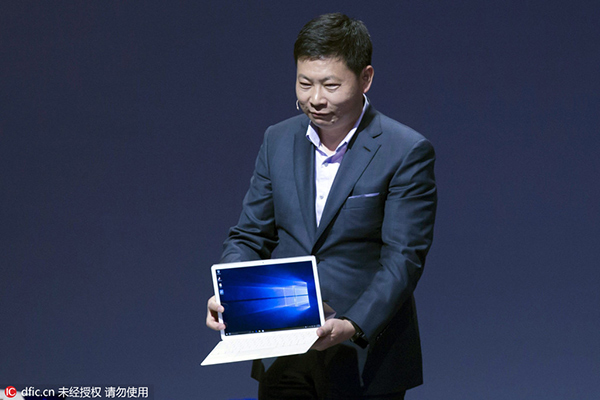 Richard Yu, Huawei's CEO, unveils the company's first convertible tablet, Matebook, during a preview day event of the Mobile World Congress in Barcelona, Spain, Feb 21, 2016. [Photo/IC]
Chinese companies are attracting high visitor interest with their new product launches and advanced technology displays at the 2016 Mobile World Congress in Barcelona, which runs between February 22-25.
Chinese exhibitors range from telecommunications giants like Huawei and ZTE, to operators like China Mobile, and traditional white goods makers like Haier and Hisense that are fast moving into the digital space.
Huawei grabbed visitor attention with the launch of its MateBook at MWC, a 2-in-1 tablet that also functions as a laptop when attached to a keyboard. The device, which champions its small size and large function range as competitive strengths, will be made available internationally from April onwards.
ZTE's new product is its Spro Plus, a smart projector that combines the functions of a smartphone, projector, mobile hotspot, and USB battery. It can be used in schools, the office, or as a household device, and sale will start in the second half of 2016.
White goods giant Haier is exhibiting its Haier Watch, a new product that functions much like Apple's iWatch, with connection to the Haier smartphone, meaning users can read messages, answer calls and control phone cameras on their watches.
Haier launched its smartphone in Europe three years ago, and the Haier Watch will be available in the second half of 2016. Haier's smartphone and smart watch expansions across European markets represent the brand's reputation building strategy in Europe, paving the way for the brand's total home solution strategy roll out across Europe.
The concept of total home solution refers to increasing connectivity between household appliances like refrigerators and televisions, with devices like smartphones and tablets, so that household appliances can be controlled remotely to provide users flexibility and convenience.