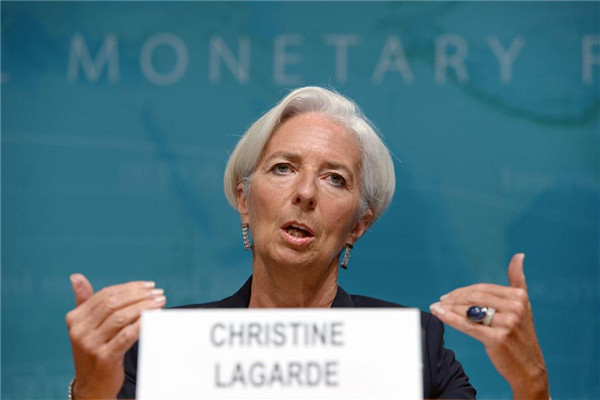 File photo taken on June 16, 2014 shows International Monetary Fund(IMF) Managing Director Christine Lagarde speaking during a news conference at the IMF headquarters in Washington D.C., the United States. IMF on Friday announced that it selected Christine Lagarde to serve as its leader for a second five-year term. [Photo/Xinhua]
BEIJING -- China supports and welcomes Christine Lagarde serving as the IMF chief for a second five-year term, a Foreign Ministry spokesperson said on Tuesday.
The IMF, led by Lagarde, has made a positive contribution to world economic growth and financial stability, Hua Chunying said at a regular news briefing.
Appreciating Lagarde's leadership and professionalism, Hua said China is willing to keep up the momentum of cooperation with the IMF, and deepen cooperation in G20.
The IMF on Friday announced that Lagarde would serve a second five-year term starting on July 5, 2016.
During her first term, the IMF approved inclusion of the yuan in its Special Drawing Rights (SDR) basket as an international reserve currency from Oct. 1, 2016.
Lagarde described the decision as "an important milestone in the integration of the Chinese economy into the global financial system."