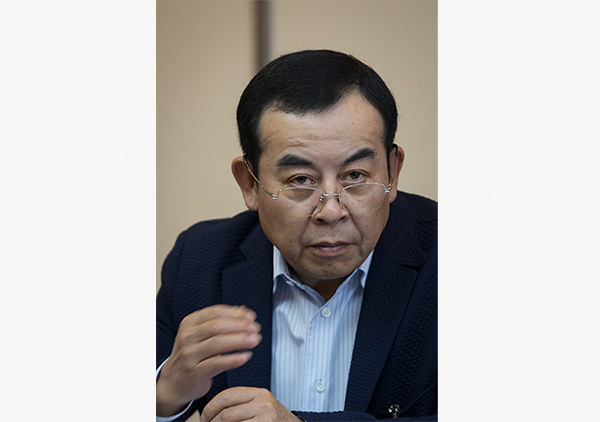 Zuo Zongshen, chairman of Zongshen Industrial Group Co Ltd. [Photo provided to China Daily]
Zongshen Industrial Group Co Ltd, one of China's largest motorcycle and automotive engine manufacturers, plans to spend at least 2 billion yuan ($307 million) to acquire overseas general aviation firms this year, the company's chairman said.
The move is part of the Chongqing-based company's efforts to expand its emerging businesses, including general aviation, unmanned aerial vehicles and robots, into 80 percent of its sales by 2022, said Zuo Zongshen.
It is looking at companies, producing either general aviation aircraft or components, in the United States, the European Union, Ukraine and Belarus, said Zuo, who is also a member of the National Committee of the Chinese People's Political Consultative Conference.
Last year the motorcycle producer bought a 49 percent stake and became the main shareholder of Canada's Harbor Air Ltd, the world's largest seaplane operator. The Vancouver-based company operates more than 50 seaplanes and serves 400,000 passengers annually.
"The purchase is a strategic investment as we will use the expertise of Harbor Air and copy the business model in China and Southeast Asia, including Indonesia, Malaysia and Singapore," said the billionaire founder of Zongshen.
The company is planning two seaplane routes in China and they will be operational this year, Zuo said.
One route will be in East China's Anhui province, connecting Chaohu Lake, one of the country's five largest freshwater lakes, and Taiping Lake. The other will connect Wushan county in Southwest China's Chongqing and Shennongjia in Hubei province. Wushan is famous for the Little Three Gorges scenic spot and Shennongjia is known for its nature reserve.
Zuo said the service would first offer sightseeing tours before expanding into express delivery of parcels.
General aviation is the operation of civilian aircraft for purposes other than commercial passenger transport. It includes civilian flying activities and other purposes such as rescue, power line maintenance and aerial photography.
The Civil Aviation Administration of China is drafting the 13th Five-Year Plan (2016-20) for the general aviation industry, Feng Zhenglin, head of the industry watchdog, was quoted as saying by the Shanghai Securities News on Tuesday.
Zongshen's move will be the latest of Chinese companies' growing appetite for overseas mergers and acquisitions, with the combined value expected to set a record this year.
Private firms played an increasing role in the investments as they completed 76.78 percent of China's mergers and acquisition deals in 2015, according to data from Morning Whistle Group.
Zongshen's transformation comes as the domestic motorcycle market is plagued by sluggish demand due to the government's ban or limit on the use of motorcycles in large cities.
More than 200 Chinese cities have banned or limited using of motorcycles in urban areas as local governments try to ease traffic congestion and lower accident rates and emission. Domestic sales of motorcycles have been declining for four years, slumping nearly 13 percent last year and reaching the lowest level in 10 years, said the motorcycle magnet.
Zuo founded Zongshen in 1992, pioneering a small motorcycle repair company into one of the world's largest manufacturers. Annual sales of motorcycles are worth around 15 billion yuan and account for more than half of his total businesses.
Zongshen is also investing heavily in the manufacturing of unmanned aerial vehicle engines. It has formed a joint venture on developing and producing light aeroengines.