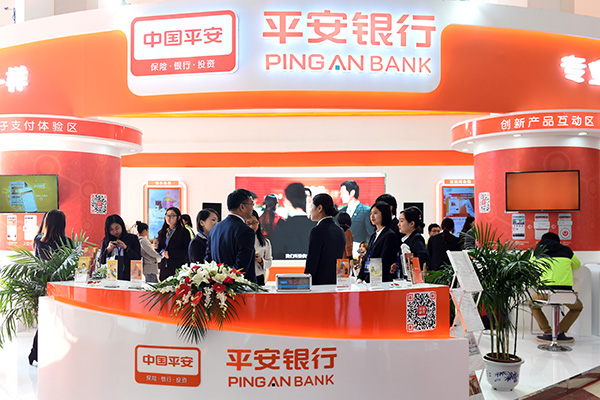 The stand of Ping An Bank at an Expo in Beijing, Oct 29, 2015. [Photo/CFP]
Mid-sized commercial lender Ping An Bank Co Ltd will deepen reforms by developing a system of business units based on different sectors, products and client segments in the next three years.
Headquartered in Shenzhen, Guangdong province, the bank will push forward transformation at branches to provide differentiated services.
The transformation will put the management ability of the bank's head office under great challenges, its President Shao Ping told a news conference on Thursday.
"We'll strive to build strong middle and back office in the next three years to ensure that the transformation of our bank will go smoothly," he said.
"At the same time, we'll launch the 2.0 version of our reform to further improve our abilities in risk control and precision management in vertical markets. You will see a rise in the number of our business units by different sectors, client segments, products and platforms."
He said the bank will also launch a strategy for overseas development this year, seeking to open a branch in Hong Kong and later move onto other markets.
The bank announced on Wednesday its net profit increased 10.42 percent year-on-year in 2015, much higher than the average net profit growth of 2.43 percent for commercial lenders in China.
It is the first listed bank in the mainland to announce financial results for 2015.
Han Xu, general manager of the bank's financial planning department, attributed faster growth to the bank's transformation efforts during the past three years, including the establishment of business units specialized in offering financial services as well as endeavor to develop investment banking, assets management and Internet finance.
"We made innovations in our business system by launching sector-based business units according to client demands for specialized financial services. These units have already become a crucial growth driver for the whole bank," he said.
Last year, six units specialized in different business areas including real estate, agriculture and transportation, posted total operating revenues of 10.1 billion yuan ($1.55 billion), up by 41 percent year-on-year.
They attracted nearly 170 billion yuan of deposits and extended more than 250 billion yuan of loans at the year end, both doubling the figures at the beginning of 2015.
The custodial business of the bank rose 105 percent from the beginning of last year to 3.69 trillion yuan at the year end. During the same period, its assets under management went up 130 percent to 741.8 billion yuan.
Industrial Securities Co Ltd said in a research note: "The performance of Ping An Bank is in line with market expectations. Its interest incomes for 2015 were driven by growth both in size and pricing from the previous year. At the same time, its net income from fees and commissions increased by 52 percent, driving a 31 percent growth in operating revenues."
While the bank posted double-digit growth in net profits and operating revenues, it also recorded a sharp increase of nonperforming loans.
At the end of 2015, the outstanding NPLs of the bank went up 68 percent year-on-year to 17.64 billion yuan. Its NPL ratio rose 43 basis points to 1.45 percent, lower than the national average of 1.67 percent for commercial banks.