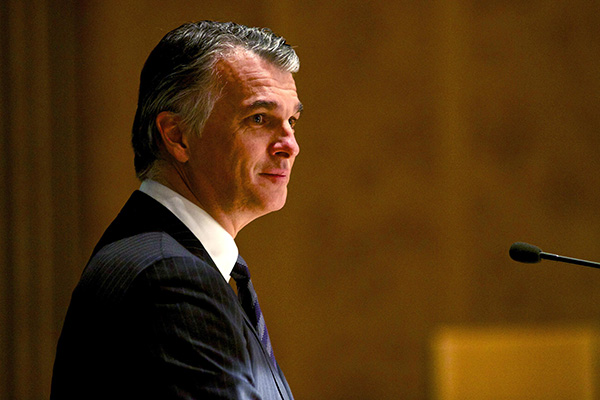 Sergio Ermotti, chief executive officer of UBS Group AG. [Photo/Agencies]
UBS aims to grow its business in China to the next level, says its chief
It was not a free lunch for Sergio Ermotti when the 56-year-old Swiss banker was appointed the chief executive of UBS Group AG five years ago as the bank was struggling in the wake of a trading scandal that caused it a hefty loss of $2.3 billion.
What came with the promotion was huge pressure and expectation, Ermotti told China Daily in a recent interview.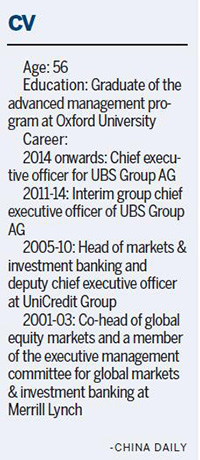 Since then the bank has undergone a drastic restructuring, including a radical downsizing of its investment banking business.
The bold transformation has allowed the bank to focus on its strength in wealth and asset management and shrug off businesses that are no longer profitable.
"The defining moment for me was not just finding the strategy and executing it," Ermotti said. "More importantly, it was about seeing our employees and clients embrace it."
When it comes to China, the Swiss banking chief has embarked a similar strategy with an emphasis on expanding wealth and asset management, while maintaining its leading position in investment banking business, aiming to grow the bank's business in the world's second-largest economy to the next level.
UBS has announced a plan to double its headcount in China by adding 600 staff over five years. The staff increases will be across wealth management, investment banking, equities, fixed-income and asset management as well as some back-office operations, according to Ermotti.
The decision was made at a time when the global banking industry's profit margin was shrinking in a volatile market condition and some of the big banks have been slashing jobs to cut costs.
While acknowledging that 2016 will be a year of adjustment for both China and the global economy, Ermotti said people should be realistic on China and expect challenges as the country is undergoing structural shifts.
Despite the short-term volatilities of the equities market, Ermotti said it is more important to focus on the mid- to long-term potential of China rather than short-term targets.
Recently, Ermotti spoke to China Daily about reasons for expansion in China, his thoughts on financial turmoil, UBS's market position and his management style. The following are edited excerpts: