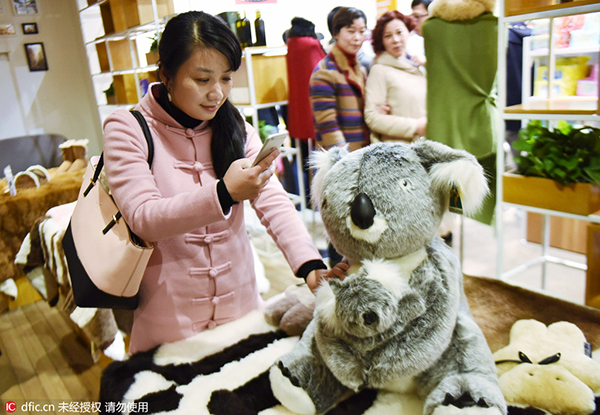 A woman selects toys at a shop in Hangzhou, Zhejiang province, Dec 24, 2015. [Photo/IC]
Females have become the driving force behind China's booming online-to-offline shopping sector, despite their minority position in the country's overall Internet-using population.
According to a new report from group-buying e-commerce website Baidu Nuomi, women now account for 46 percent of the country's Internet users, but they generate 62 percent of O2O revenues.
Baidu Nuomi claims it now accounts for a fifth of daily O2O sales-a rapidly growing market that enables online customers to pay online for bricks-and-mortar services, such as movie tickets and restaurant bookings.
Tang Lihua, a director at Baidu Nuomi, said the results show that attracting, then retaining, female shoppers has become critical for any O2O platform.
"We plan to provide more baby-related and beauty-related services and products, for instance, in order to further grow our business, as we think that's likely to be strong selling-point for women," she said.
The study showed that since the start of 2015, female O2O spending has far-outstripped that by males, and the gap is growing, particularly during the country's flagship shopping events such as Qixi, Chinese Valentines Day.
As well as the beauty-related sector, women outspent men in other lucrative areas, too, including gyms and leisure, and hotels, said the report.
Gao Shuang, an analyst with China Internet Network Information Center, said the main reason is simple: Women are more decisive when it comes to shopping.
"They are not only buying for themselves, they are also shopping for their parents, their husbands and children," she said, adding their pickiness, too, is also driving up improvements in services and product innovation.
According to the center's statistics, the number of female online shoppers grew to 180 million by the end of 2015, more than double the number in 2010.