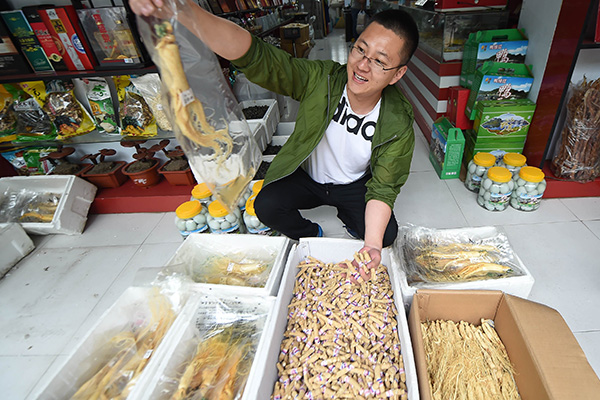 Businessman Sun Hui shows ginseng products at his shop in Ji'an, Jilin province, a major area for ginseng growth, where the annual production of fresh ginseng has reached 4,000 metric tons. [Photo/Xinhua]
Though snow still covered the crops that Zhao Youjun grew at the foot of Changbai Mountain in northeastern Jilin province, he knew the ancient herb would attract a great deal of traders to his small county in just a few months.
The prized herb that Zhao believes could bring huge profits is ginseng, the bitter roots that have long been used in traditional Chinese medicine-chewed raw or cooked into meals for their health-enhancing properties.
He said it is the faith in its tonic power that has spurred the growth of ginseng's commercial production as Chinese people buy more health and wellness products.
As a result of its popularity, the wholesale price of top-quality processed ginseng is expected to stay at 240 yuan ($36) per kilogram.
"For thousands of years, we have been using medicine made from dried ginseng to treat ailments. Even today, it is used in many forms to wake you up, whip you into shape or rejuvenate your body," said the farmer.
In Fusong county of Jilin, about 35,000 metric tons of fresh ginseng were traded at Changbai Ginseng Market in 2014, Asia's largest for the root.
The volume accounted for 80 percent of the country's ginseng market. China's ginseng exports declined 36 percent to 1,207 tons in 2014 while the value increased 14 percent to $137 million over the same period.
Local farmers in Fusong have an average annual income of around 43,000 yuan, four times the national average, said Hou Yubing, director of Fusong Ginseng Industrial Development Center.
The industry had a total sales volume of around $2.9 billion last year, he said.
Though China is the world's largest ginseng producer and consumer with dried roots exported to South Korea, Japan and Germany, the exports account for just 20 percent of the global total.
"Then those countries exported ginseng products such as cosmetics, ginseng tea, pills and ginseng-flavor drinks back to China with more added-value, because we still lag behind them in terms of processing and extraction," said Yang Xinyu, a co-founder of Changbai Ginseng Market.
He said at the moment, there are many small players in the business in China but the nation lacks a large-scale ginseng company.
But he plans to expand the businesses to keep track of every step of the ginseng trade, from collection to consumption.
Yang, also president of Changchun Xinyu Medical Co, said the firm is putting a lot of effort into the research and development of ginseng medicine and ginseng health products.
The government is also very supportive of the ginseng industry's development, offering subsidies and help to local growers.
Since 2012, the Ministry of Health (now the National Health and Family Planning Commission) has permitted ginseng's use as a food additive, a move to further boost domestic demand.
Hou said other Chinese companies are also developing high-end ginseng products, such as ginseng peptide, which is purified from the ethanol extraction of ginseng for cosmetic use.
"It will take a long time for such innovation, but we are heading in the right direction," he said.
"We will eventually shift from a supplier of raw-materials to the world's high-end marketplace."