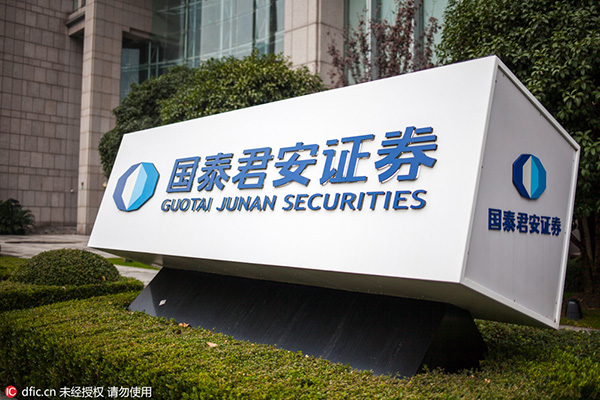 A branch of Guotai Junan Securities Co Ltd in Shanghai, China, Nov 29, 2015. [Photo/IC]
Guotai Junan Securities Co Ltd, one of China's largest investment banks, has relaxed conditions on its stock lending and margin trading.
The brokerage said on Thursday it had raised the average conversion rate for margin trading (allowing investors to borrow money for stock purchases) and stock lending (short selling) to 56.2 percent for share transactions in blue-chip and growth companies with stable performances.
The current maximum conversion rate, according to regulations, is 70 percent.
Guotai Junan said that its aim was to boost the development of its margin-trading business, consolidate long-term confidence, and stabilize the equity market.
It's the fifth brokerage to relax margin trading and stock lending conditions, in what experts consider a move to allow more funds to flow into the equity market, since Chinalion Securities Co started the trend in late February.
Analysts said more are expected to announce similar moves as current combined balances of margin trading and stock lending accounts remain relatively low.
The combined balance has fallen to 850.5 billion yuan ($130 billion), the lowest since December 2014.
Ruan Zeyu, an investment consultant with Minzu Securities Co, said relaxing margin trading is a standard measure of attracting capital into the equity market.
He said many brokerages have been making similar plans since early last month, as share valuations, particularly blue-chip stocks, presented strong opportunities for investors.
However, he underlined that recovering market confidence is not necessarily correlated to the relaxation.
According to 21st Century Business Herald, there is growing speculation that the securities regulator had actually filed notices to some brokerages asking them to increase their conversion rates for margin trading and stock lending.
However, there was no official confirmation of this on the China Securities Regulatory Commission's website by Thursday.