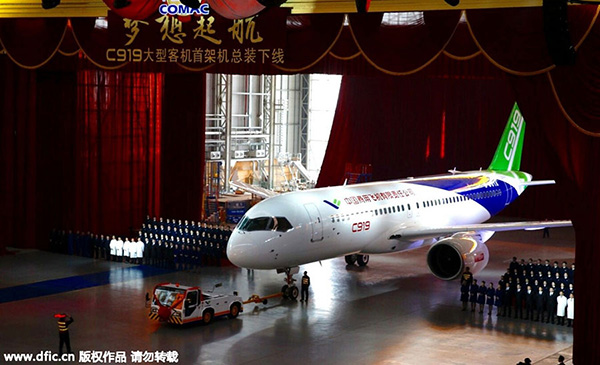 China's first home-developed large passenger aircraft C919, seen in blue and green livery and built in Shanghai, rolls off the newly-built final assembly line, Nov 2, 2015. [Photo/IC]
Response was muted on China's capital markets to the announcement on Thursday that three of the country's major aerospace engine manufacturers are to be controlled by a new State-owned parent company-Aircraft Engine Corp of China.
In separate statements, officials said, the existing Aviation Industry Corporation of China's three listed aerospace engine subsidiaries-AVIC Aviation Engine Corp, Sichuan Chengfa Aero Science and Technology Co and AVIC Aero-Engine Controls Co, which involve around 40 entities-will be combined.
The new company, Bloomberg said, would have 145 billion yuan ($22 billion) in assets.
It quoted a source as saying the entities had combined assets of about 110 billion yuan, and the government and the companies themselves would invest an additional 35 billion yuan.
Although AVIC was effectively their previous parent, the businesses performed separately under three units: engine machines, engine control systems and parts.
Shares in AVIC Aviation Engine climbed 1.49 percent, while Sichuan Chengfa Aero Science & Technology dropped 2.14 percent, and AVIC Aero-Engine Controls fell by 1.29 percent.
"The capital market had no big response to the move, as it is unlikely to take effect immediately," said Mao Huojun, investment director at Beijing Dalin Asset Management Co Ltd.
"But its influence in the long term will be vital, as it is a good way for China to make aerospace engine sector more market-oriented and competitive internationally."
Mao said he currently favors aerospace shares and believes the three companies and the sector will perform well in the long term.
Zhang Jinghua, an analyst at Bohai Securities Co, said separating aerospace engine manufacturing from aircraft manufacturing is consistent with international practices, and that the move will improve China's capabilities in aerospace engine research and development, and building.
China would launch major projects to develop high-end equipment, information networks, integrated circuits, new energy, new materials, biomedicines, aero engines, and gas turbines, helping a number of emerging industries to become leading ones, according to the Report on the Work of the Government (2015).
The move of merging aerospace engine assets is part of the efforts to streamline the State-owned sector while creating competitive companies in the world.
In June, China merged the country's two leading rail-equipment companies, and announced a plan in December to reorganize its two biggest shipping groups.