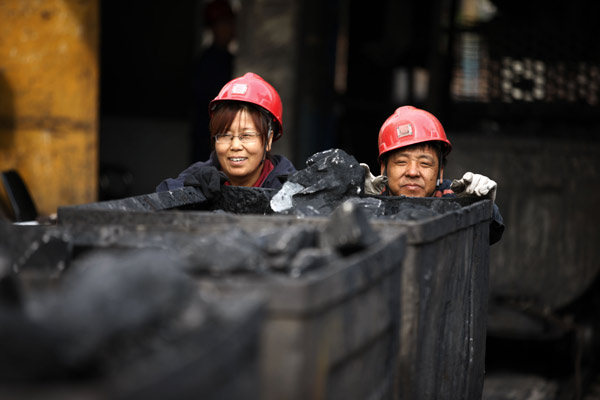 Workers at a coalmine in Huaibei, Anhui province. [Photo/China Daily]
The central government has put de-capacity as this year's top priority for the first time in years, followed by destocking, deleveraging, lowering costs and improving weak growth areas. It shows its urgency and complexity.
China's economy has entered a new normal. Given the mounting downward pressure, cutting excessive capacity is crucial for three reasons.
First, as demand in some sectors is close to or has already reached a peak level, industrial development can only be achieved through cutting overcapacity. China is in its late stage of industrialization, after its tertiary sector surpassed secondary sector in 2012. Such transition is often accompanied by a shift of leading industries from garment manufacturing, mining and building materials to high-tech and services.
For instance, as demand for heavy chemicals already peaked, overcapacity is in absolute sense instead of cyclical, therefore it can no longer be dissolved through demand expansion or the next economic cycle. According to industry sources, domestic consumption in crude steel peaked at 764 million tons in 2013 and fell 3.4 and 5.5 percent in 2014 and 2015 respectively. Such downward trend is expected to continue this year. In a longer term, as China's railway construction nears completion and the growth in real estate and auto industries slows, a drastic recovery in the steel demand will be less likely.
Second, overcapacity is the major reason behind China's economic slowdown. Excessive capacity is to blame for the slump in industrial products, corporate earnings as well as fiscal revenue, while increasing the risk. Sectors suffering severe loss are those plagued by overcapacities. According to statistics by the industry, 90 major mining groups reported 91 percent decline in their profit and the loss among registered steel companies totaled 64.53 billion yuan. Profit margin in mining sector was merely 1.76 percent, way below the industrial average 5.76 percent.
Third, only through cutting capacity, can the economy return into a better shape. Excessive capacity can lead to vicious competition, let alone the structural transformation and innovation. What's more, such unhealthy situation can have a ripple effect on the supply chain, causing financial and credibility risk. Therefore, if there is no real progress in cutting capacity, the whole economy will fall into deflation, low efficiency and low growth. It is therefore crucial to get the corporate profitability and development back to normal and ward off financial risks.
Addressing the overcapacity issue may cause some pain in the short term such as putting local economy and job market under pressure, however we should have no illusion. Sooner beats later. We have to choose between strangling the whole industry and allowing the bankruptcy of a few.
Cutting capacity should be government-led and market-driven
The State Council recently put forward a general layout for de-capacity, stating that such task should combine the market mechanism with government's support.