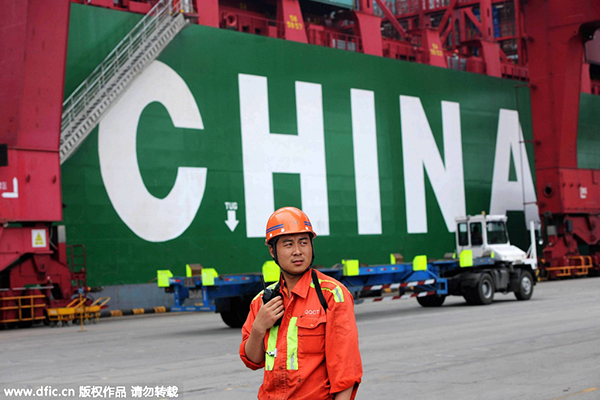 A stevedore works at Qingdao port in Shandong province, July 1, 2015. [Photo/IC]
Some of China's most respected economists gathered at a high-level forum in Beijing on Friday and called on the government to act more quickly to help industries cut excessive capacity.
Since last year, the government has been shutting down inefficient and polluting factories, particularly in the steel-making and coal sectors.
But the government must work more resolutely and effectively because China "really cannot afford to wait" in closing down the old-fashioned and unprofitable part of China's manufacturing industry, said Liu Shijin, economist and former deputy director of the State Council Development and Research Center, a government think tank.
Liu said that officially arranged mergers of State-owned enterprises cannot solve problems such as low efficiency and excessive capacity.
Professor Qian Yingyi, dean of the Tsinghua University School of Economics and Management, said this year is of special importance for China's economic transition, so China must not waste time in its SOE reform.
To protect their own interests, some local governments are still trying to hide the industrial capacities of their regions, said Yang Weimin, deputy director of the Office of the Central Leading Group on Financial and Economic Affairs, a top-level policymaking body.
Some local governments report that they are closing down unprofitable businesses, which are known as zombie companies. But in fact they have just revoked some production licenses that they had not used for a long time, so they are not really helping these enterprises go through the liquidation process, Yang said.
"Banks should stop lending to the zombie companies. Regulators of SOEs should not be afraid to cut down the book value of the SOE assets under their control. Regional interests should give way to general logic," Yang added.
Overcapacity exists not only in the steel and coal industries, but also in the aluminum-making, petrochemical and shipbuilding industries, Yang said.
Zhou Xiaochuan, governor of the People's Bank of China, told the forum he knew nothing about the rumor, reported by some overseas media, that the central bank was ready to raise the reserve requirement ratio for commercial banks to cut the money supply, a move that would lead to a higher interest rate.
Yi Gang, vice-governor of the central bank, said China's monetary policy should not be "too loose".
It should prevent excessively easy credit from creating an asset bubble and resulting in downward pressure on the value of the renminbi, Yi said.
Contact the writers at zhengyangpeng@chinadaily.com.cn